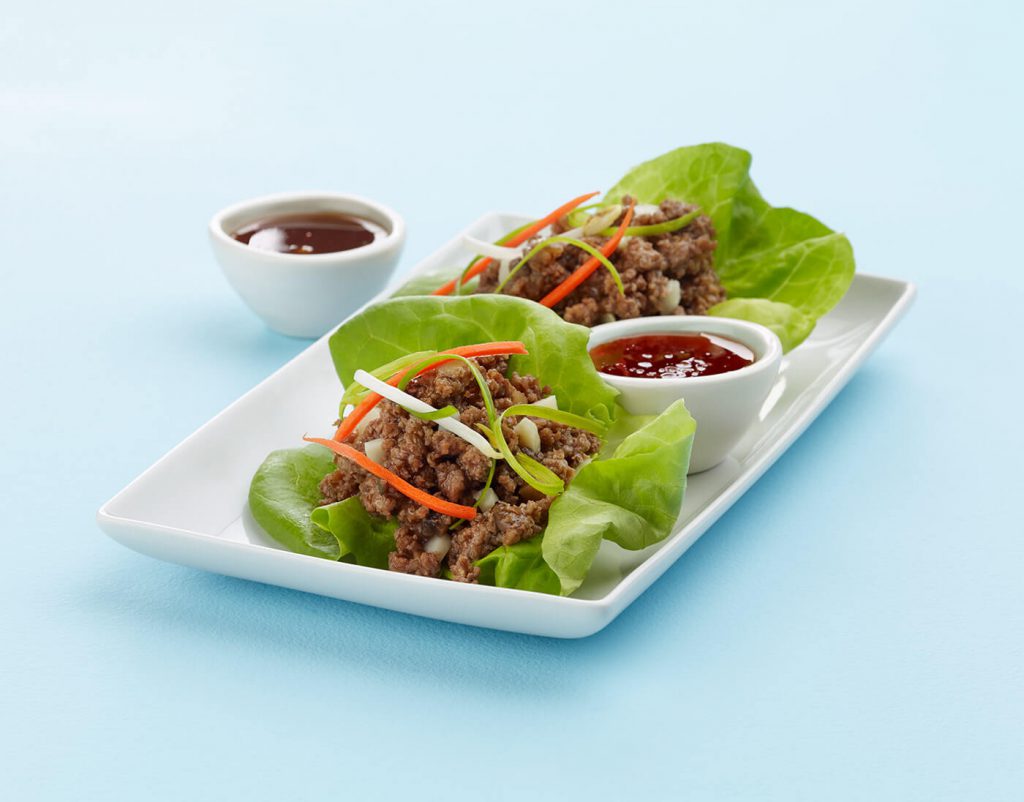 Banh Mi Turkey Wraps
These lettuce wraps are a delicious option for health-conscious diners and Asian flavor lovers alike. Serve them as a sharable starter, or pair with an Asian quinoa salad for a hearty lunch or dinner offering.
Ingredients
Banh Mi Turkey Wraps
Yield: 12–14 wraps
Vegetable oil or peanut oil
Marinated Vegetables, as needed
Stir-Fry Sauce, as needed
Directions
1.

Combine the cornstarch, mirin, water, soy sauce and 1 teaspoon of oil in a mixing bowl and blend well. Fold in and blend well with the ground turkey. Marinate for 15 minutes.

2.

Combine all the ingredients for Marinated Vegetables in a stainless steel bowl and toss together. Drain and set aside.

3.

Combine all the ingredients for the Stir-Fry Sauce in a small stainless steel bowl and set aside.

4.

Heat a wok or heavy skillet over medium-high heat. Add 2 teaspoons of oil and the marinated turkey, then stir-fry for 3–4 minutes or until an internal temperature of 165°F is reached. Remove and set aside.

5.

Clean the wok or skillet with a cloth, then place back over medium-high heat. Add the remaining oil, then the ginger, garlic and onions. Stir-fry for 1 minute, then add the water chestnuts and stir-fry for an additional minute.

6.

Add the cooked turkey and Stir-Fry Sauce, then cook until thickened. Pour into a serving bowl. Fill each lettuce cup with a spoonful of turkey and top with a tablespoon of the drained marinated vegetables. Serve.
Ingredients
Marinated Vegetables
Jalapeños, sliced into thin rings
English cucumber (kirby), julienned
Directions
Ingredients
Stir-Fry Sauce
Vegetable oil or peanut oil
Directions
Get All Things Butterball Delivered to Your Inbox
Find Your Broker