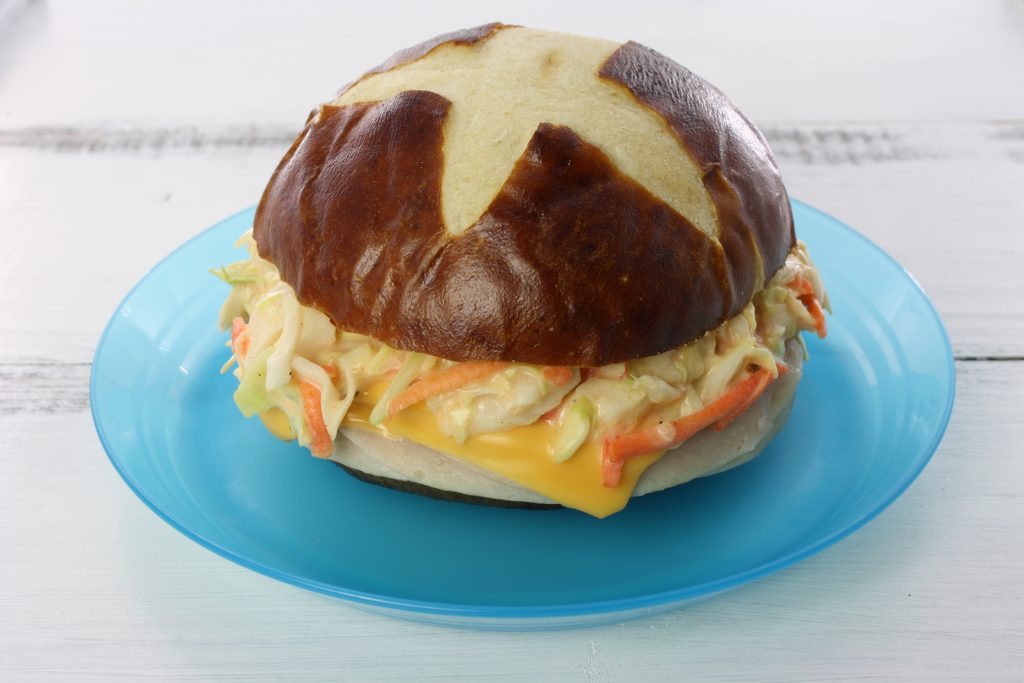 Buffalo Ranch Pretzel Turkey Melt
Ingredient
50 Portions
100 Portions
50 Portions 10 lbs. 8 oz.
100 Portions 21 lbs.
50 Portions 5 lbs. 11 oz.
100 Portions 11 lbs. 6 oz.
Ranch salad dressing, reduced fat
50 Portions 1 ½ cups, 1 tbsp.
100 Portions 3 ⅛ cups
50 Portions ½ cup
100 Portions 1 cup
Oil, Pam Original Cooking Spray
50 Portions ½ spray (about ⅓ sec.)
100 Portions 1 spray (about ⅓ sec.)
Whole-grain pretzel bun, sliced, 2 7/10 oz.
50 Portions 50 ea.
100 Portions 100 ea.
Cheese blend, American and skim milk cheeses
50 Portions 1 lb. 9 oz.
100 Portions 3 lbs. 2 oz.
Preheat an oven to 350°F.
In a large bowl or 6" full steam table pan, toss the coleslaw, ranch dressing and Buffalo sauce. Cover and store in the refrigerator until ready to serve.
Prepare sheet pans with parchment paper and lightly spray with the pan spray. Place the bottom of each bun on the sheet pan, with the cut side up. Top each with 6 slices of turkey and 1 slice of cheese. Place the top of each bun on separate sheet pans with the cut side up.
Place the bottoms and tops in the oven. Cook the tops for 5–7 minutes or until lightly toasted, then remove them from the oven. Cook the bottoms for 15 minutes or until the turkey reaches 165°F and the cheese is melted.
Remove the pans from the oven and top the cheese with ½ cup of the coleslaw mixture. Place the tops on the melt and serve.
CCP: Heat the poultry to 165° F degrees or higher for 15 seconds.
Nutrients per Serving
Show More
Total Dietary Fiber 4.3 mg
Meat/Meat Alt 2 ½ oz. eq.
Get All Things Butterball Delivered to Your Inbox
Find Your Broker