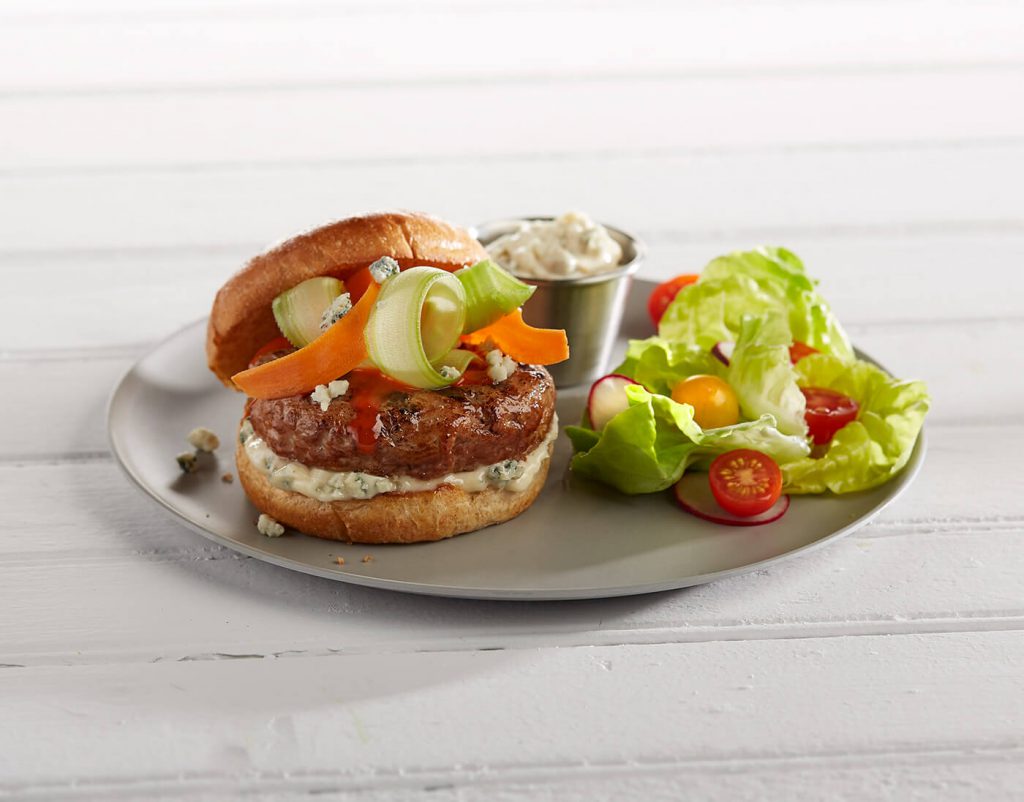 Buffalo Turkey Burger
With the zing of your preferred Buffalo sauce and blue cheese mayo, this turkey burger steals the scene with a lighter take on a bar-and-grill favorite. Serve with a side salad, and be sure to keep extra napkins on hand for this one!
Ingredients
Buffalo Turkey Burger
Yield: 4 burgers
Black pepper, freshly ground
Kaiser rolls or brioche buns
Buffalo wing sauce, prepared
Directions
1.

In a large bowl, gently combine the turkey, garlic, cayenne, salt and black pepper. Form into 4 6-ounce patties and cook the patties to 160°F.

2.

Using a vegetable peeler, shave the carrot into long strips. Thinly slice the celery stalk on long diagonals.

3.

Spread 1 tablespoon of Blue Cheese Mayonnaise on the bottom of a kaiser roll.

4.

Place 1 burger on the bottom bun. Top with 2–3 carrot strips and 3–4 celery slices. Drizzle ¾ to 1 teaspoon of Buffalo wing sauce over the burger.

5.

Replace the top bun.

6.

Repeat steps 3–5 to make the remaining 3 burgers.

7.

Serve.
Ingredients
Blue Cheese Mayonnaise
Yield: 1 ¼ cups
Cayenne pepper (optional)
Directions
1.

Combine all the ingredients in a small bowl.

2.

Refrigerate the mayonnaise until ready for use.
Get All Things Butterball Delivered to Your Inbox
Find Your Broker