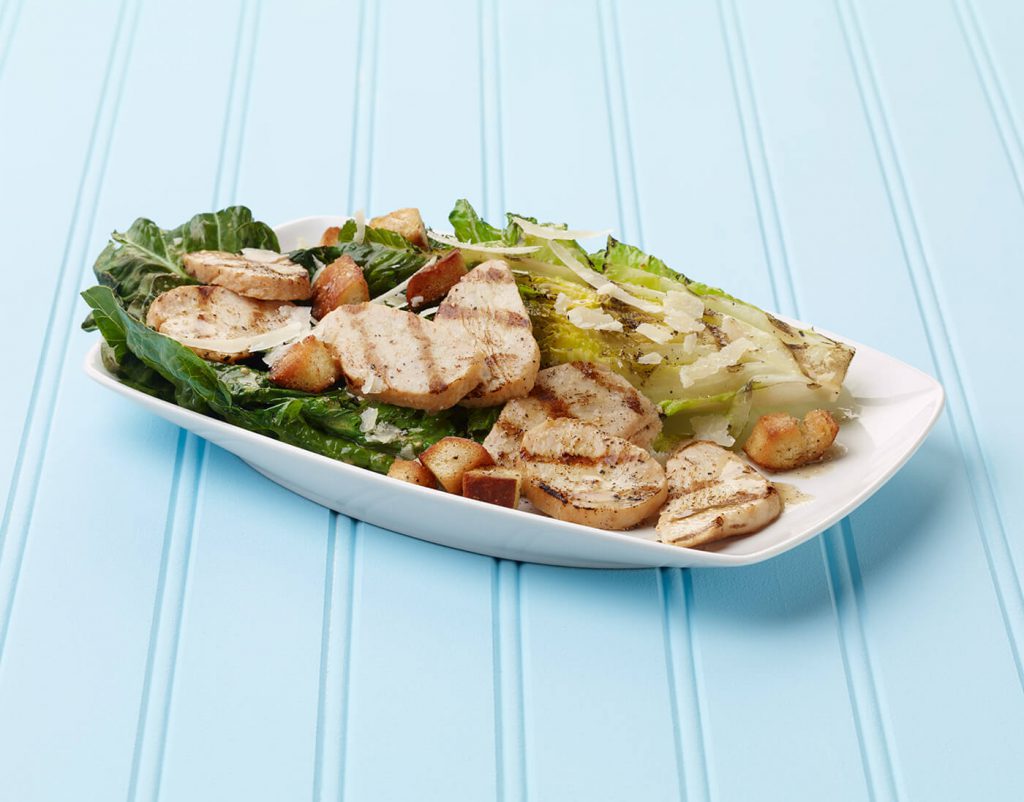 Classic Caesar Salad
The Caesar salad is a menu staple. Switch it up by using turkey in place of chicken. A side of garlic bread makes it a filling meal that can be served for lunch or dinner.
Ingredients
Classic Caesar Salad
Yield: 2 plates
Romaine hearts, trimmed, cut in half lengthwise with core intact
Pepper, freshly cracked, to taste
Olive oil spray, as needed
Directions
1.

Rinse and refrigerate the trimmed romaine hearts in a sealed plastic bag for at least 2 hours (this step may be prepared a day in advance).

2.

Remove the crisp romaine hearts from the bag and place onto a tray. Lightly brush the olive oil all over the cut romaine hearts, then season with salt and pepper.

3.

Spray a preheated grill (charcoal or gas—medium-high heat) with oil spray.

4.

Grill the seasoned romaine on all sides (about 1–2 minutes) to achieve char marks. Use caution; do not burn.

5.

Arrange the grilled romaine hearts onto dinner plates (2 halves per portion).

6.

Drizzle the Classic Caesar Dressing evenly over the grilled romaine hearts, and then sprinkle with the shaved Parmesan cheese.

7.

Arrange the croutons and grilled turkey medallions over the grilled romaine.

8.

Add more freshly cracked pepper to taste.
Ingredients
Classic Caesar Dressing
Black pepper, freshly milled, to taste
Egg, coddled (cooked in the shell for 1 minute—use mainly the yolk)
Directions
1.

Combine the anchovy filets, garlic, black pepper and dry mustard in a mortar and pestle; blend well.

2.

Work in the Worcestershire sauce and lemon juice, and then work in the coddled egg; blend well.

3.

Slowly incorporate the olive oil and Parmesan cheese into the dressing; blend well.

4.

Use immediately or store in a refrigerator in a labeled and dated container.
Get All Things Butterball Delivered to Your Inbox
Find Your Broker