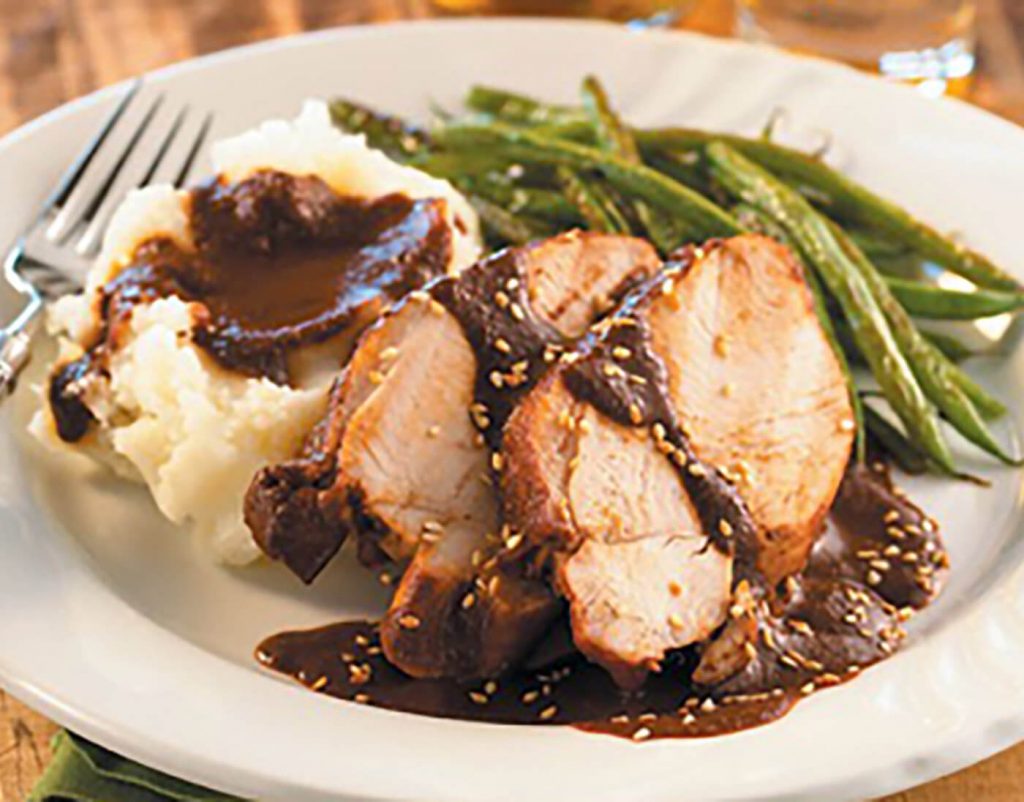 Classic Mole Poblano With Turkey
Ingredients
Classic Mole Poblano With Turkey
Yield: 8 servings
Tomatillos, husked and rinsed
Mulato chiles, dried and seeded
Ancho chiles, dried and seeded
Freshly ground black pepper
Anise seed, freshly ground
White bread, toasted, broken into pieces
Mexican chocolate, roughly chopped
Directions
1.

Preheat broiler. Spread tomatillos on a baking sheet and roast them in broiler about 4 inches from heat source until dark, even blackened in spots, about 5 minutes. Turn and roast other side, 4 to 5 minutes, until splotchy-black, blistered and soft; place tomatillos in a large bowl. Add about 2/3 of the sesame seeds; set aside the remainder for garnish.

2.

Place lard or oil into a large Dutch oven over medium heat. Tear chiles into flat pieces and fry them, three or four at a time, turning them with tongs until interior sides have lightened, about 20 to 30 seconds. Do not allow them to smoke. Place in a separate large bowl; leave fat in the Dutch oven. Remove all chile seeds from the oil. Cover fried chiles with hot tap water and place a plate over them to ensure even hydration. Let stand about 30 minutes.

3.

Fry garlic and almonds in Dutch oven until browned, about 5 minutes. With a slotted spoon, remove them to the bowl with the tomatillos. Add raisins and fry until puffed and browned, about 20 to 30 seconds; with the slotted spoon, remove raisins to bowl with the tomatillo mixture.

4.

Increase heat to medium-high. Sprinkle turkey with salt. Add one half to pot and brown on all sides, about 10 minutes total. Remove to a plate; brown the other half. (If not completing the recipe within an hour, refrigerate browned turkey.)

5.

Purée rehydrated chiles with 2 1/2 cups soaking liquid. (If liquid tastes bitter, substitute water.) Strain through medium mesh strainer into a bowl; set aside. Purée tomatillo mixture, 1 cup water, cinnamon, pepper, anise, cloves, bread and chocolate. Add a little water if needed. Strain through mesh strainer back into bowl; set aside.

6.

Pour puréed chile mixture into the hot Dutch oven and stir constantly until dark and thickened to the consistency of tomato paste, about 10 to 15 minutes. Add tomatillo purée and continue stirring until it has thickened again, 5 to 10 minutes more. Add 6 cups water, stir well, partially cover, reduce heat to medium-low and simmer gently, stirring occasionally, for 45 minutes. The mole should be thick enough to coat a spoon. If it's too thin, simmer briskly over medium to medium-high heat until it thickens; if it's too thick, stir in a little water. Add salt and sugar to taste.

7.

Preheat oven to 325°F. Lay turkey into the mole, cover and roast until turkey registers 150 degrees F, about 40 minutes. (If turkey was refrigerated, allow an additional 10 to 15 minutes cooking time.) Remove turkey from mole, place on cutting board, cover with foil and let stand 10 minutes. Slice 1/2-inch thick; arrange slices slightly overlapping on platter. If mole has thickened beyond consistency of a cream soup, thin with a little water. Add more salt and sugar to taste.

8.

Ladle 3 to 4 cups mole over and around turkey and sprinkle with reserved sesame seeds. Garnish with watercress or parsley.
Get All Things Butterball Delivered to Your Inbox
Find Your Broker