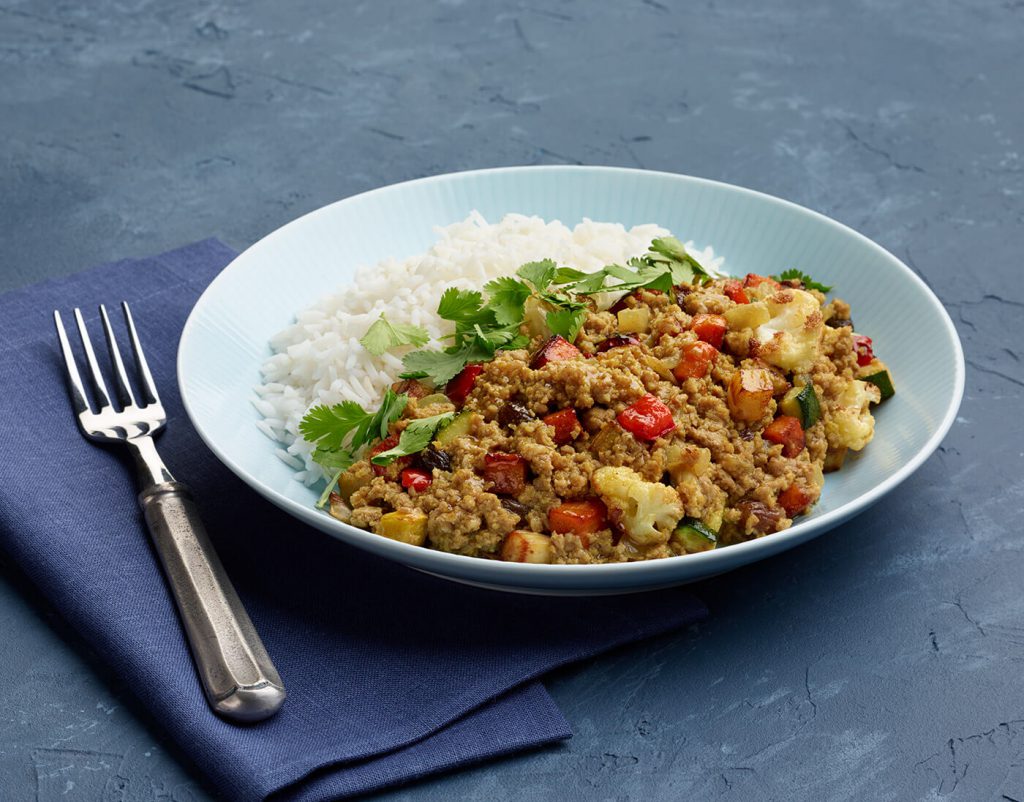 Curried Turkey with Roasted Vegetables
Put ground turkey to work in this ethnic-inspired entrée. With curry seasoning that's slightly sweet, its flavor is sure to appeal to a broad range of diners. Make it a special served with warm naan bread, tossed salad and a glass of sauvignon blanc.
Ingredients
Curried Turkey
Directions
To prepare the Curried Turkey

1.

Heat ½ cup oil in a heavy-duty pot (large enough to hold all the ingredients), then sauté the onions and garlic to a light brown. Add turkey and sauté for 10–12 minutes.

2.

While the onions, garlic and turkey are sautéing, combine the curry powder, cardamom, black pepper and cinnamon sticks with ¼ cup oil and blend well.

3.

Combine the cornstarch and broth and add to the turkey mixture. Add the raisins and blend well. Bring to a boil and simmer for 20–25 minutes.
Ingredients
Roasted Curried Vegetables
Raw cauliflower (about 1 medium head), separated into florets
Yellow squash, 1-inch dice
Eggplant, medium size, 1-inch dice
Fresh fennel, sliced thin
Red bell pepper, 1-inch dice
Directions
To prepare the Roasted Curried Vegetables

1.

Combine all the cut vegetables in a large stainless steel bowl.

2.

Pour the Seasoned Oil over the vegetables and blend well.

3.

Pour the seasoned vegetables into a preheated roasting pan.

4.

Roast the vegetables in a preheated 425°F oven for 30 to 40 minutes, until golden brown.
Directions
To prepare the Seasoned Oil

1.

Combine the oil, curry powder, black pepper, cardamom and salt, and blend well.

To Plate and Serve

1.

Place a cup of prepared rice in the center of a soup plate. Add a cup of the Roasted Curried Vegetables to the left of the rice and a cup of the Curried Turkey to the right, and serve.
Get All Things Butterball Delivered to Your Inbox
Find Your Broker