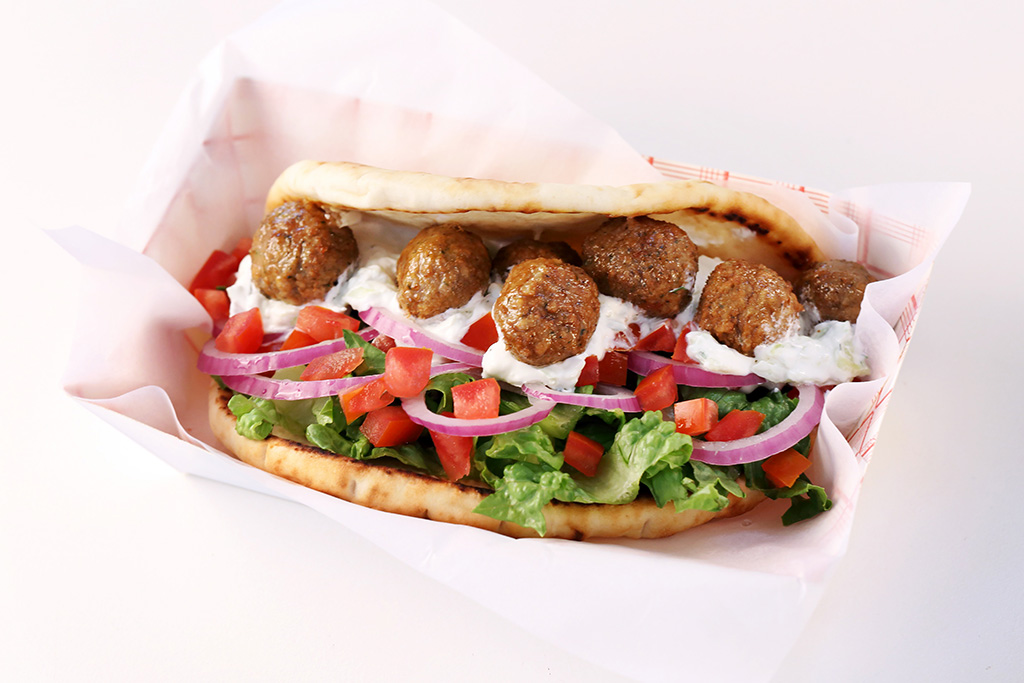 Greek Meatball Gyros
You'll be a lunchtime hero when you serve these bright and savory gyros featuring turkey meatballs, crunchy romaine, cucumbers and fresh tomatoes. Wrap in a warm flatbread with a drizzle of fat-free Greek yogurt for a handful of delight.
Ingredient
50 Portions
100 Portions
50 Portions 10 lb or 2 bags
100 Portions 20 lbs or 4 bags
English cucumber, fresh, peeled, drained well
50 Portions 3 cups, drained (about 6 whole cucumbers)
100 Portions 1 qt 2 cups, drained (about 12 whole cucumbers)
6" Flatbread, whole grain rich (at least 2 oz eq each)
50 Portions 50 each
100 Portions 100 each
Greek yogurt, fat free, plain
50 Portions 2 lb 5 oz or 1 qt 1 cup
100 Portions 5 lb or 2 qt 2 cups
50 Portions 1 Tbsp 1 tsp
100 Portions 2 Tbsp 2 tsp
50 Portions 2 Tbsp
100 Portions ¼ cup
50 Portions ¼ cup
100 Portions ½ cup
Dill, fresh, chopped, packed
50 Portions ¼ cup
100 Portions ½ cup
Romaine, fresh, pieces or shredded
50 Portions 3 lb 4 oz or 1 gal 1 qt 1 cup
100 Portions 6 lb 8 oz or 3 gal 2 cups
Tomatoes, fresh, diced, ready-to-use
50 Portions 2 lb 14 oz or 1 qt 2 ¼ cup
100 Portions 5 lb 12 oz or 3 qts ½ cup
Red onion, fresh, thin slices
50 Portions 1 lb or 3 cup 2 Tbsp
100 Portions 2 lb or 1 qt 2 ¼ cup
The Day Before Preparation - Drain Cucumbers: Peel and shred cucumbers. Drain overnight, place shredded cucumbers in a 2" perforated pan lined with a 4" perforated pan. Using gloved hands, pack cucumbers down to push as much water out as possible. Cover and allow to continue draining overnight. If available, may use a chinois strainer or other fine strainer. CCP: Hold at 40 °F or lower.
Prepare Tzatziki Sauce: Drain excess liquid from yogurt. Add yogurt, cucumbers, granulated garlic, vegetable oil, lemon juice, and dill to a large bowl. Gently fold the ingredients together using a rubber spatula. Place in the refrigerator for 2 hours to meld flavors together. Drain any excess liquid before service. CCP: Hold at 40 °F or lower.
Bake Meatballs: Place 1-bag meatballs in a single layer on a full sheet pan lined with parchment paper. Bake for 10 minutes. Using hot pads hold onto the corners of the parchment paper and shake the meatballs to toss them. Turn and rotate meatballs onto different racks. Bake for 10 more minutes or until 165°F. Heat to 165 °F or higher for 15 seconds. CCP: Hold at 140 °F or higher.
Heat Flatbread: Remove flatbread from packaging. Stack in steamtable pans. Cover and place in warmer 30 minutes before preparation.
Build Flatbreads: Place ½ cup (4 fl oz spoodle packed) romaine lettuce) down the center of each flatbread. Top with 6 meatballs (6 fl oz spoodle), 2 Tbsp (#30 scoop~1.28 oz wt each) tzatziki sauce, 2 Tbsp (1 fl oz spoodle) tomatoes, and about 4 thin slices red onion.
Nutrients per Serving
Show More
Meat/Meat Alt 1.5 oz. eq.
Get All Things Butterball Delivered to Your Inbox
Find Your Broker