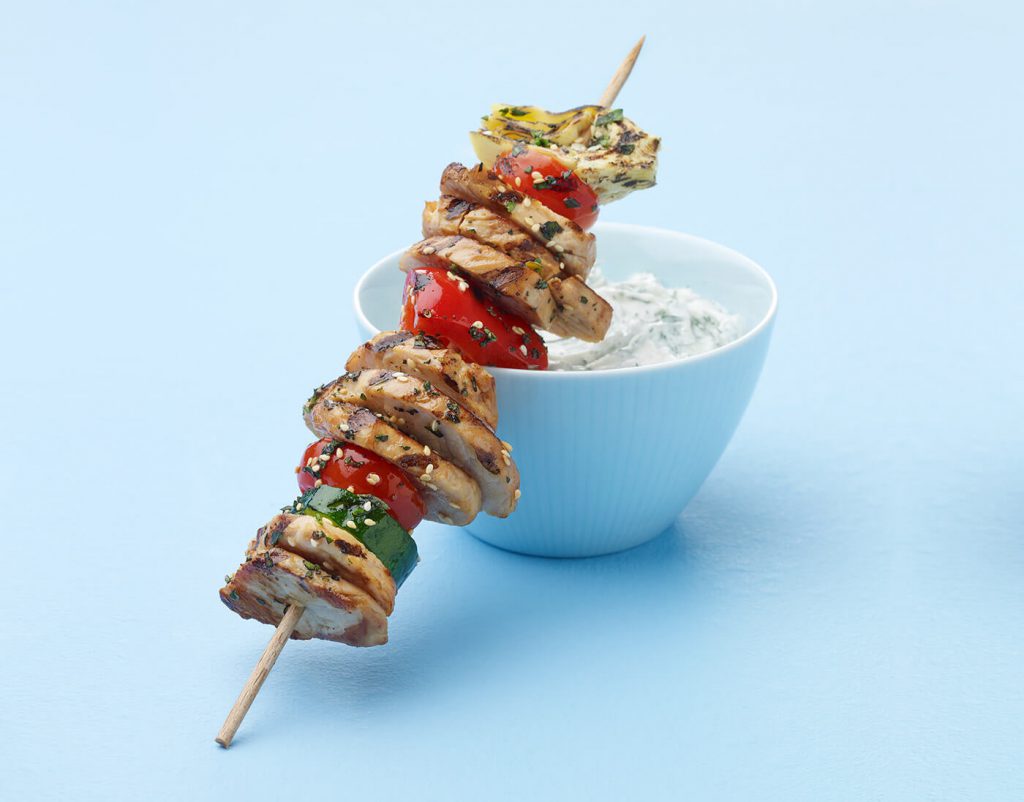 Grilled Sesame Turkey Kebab
Stick with turkey for patron-pleasing kebabs.
Ingredients
Grilled Sesame Turkey Kebab
Yield: 1 kebab
Wooden 8-inch skewer, soaked in oil for an hour
Zucchini round, ⅜-inch thick
Cherry tomato, cut in half
Red pepper, 1 ¼-inch x 1 ¼-inch square
Artichoke heart, marinated
Balsamic glaze, as needed
Toasted sesame seeds, a sprinkle
Directions
1.

Skewer the ingredients in this order onto oiled skewer: 2 Turkey Medallion slices, zucchini round, cherry tomato half, 3 Turkey Medallion slices, red pepper square, cherry tomato half, marinated artichoke heart.

2.

Chargrill the brochette (loaded skewer). Brush the brochette with olive oil. Season with salt and pepper. Chargrill the brochette to a golden brown on all sides. Brush with balsamic glaze before removing from grill.

3.

Place on a serving plate with rice pilaf.

4.

Serve with Tzatziki Sauce.
Ingredients
Tzatziki Sauce
Yield: 2 ¾ cups
English cucumber, peeled and seeded, ¼-inch diced
Directions
1.

Place the diced cucumber into a towel and squeeze dry. Discard the water.

2.

Combine the remaining ingredients and blend well.

3.

Place into a container with a lid and refrigerate.
Get All Things Butterball Delivered to Your Inbox
Find Your Broker