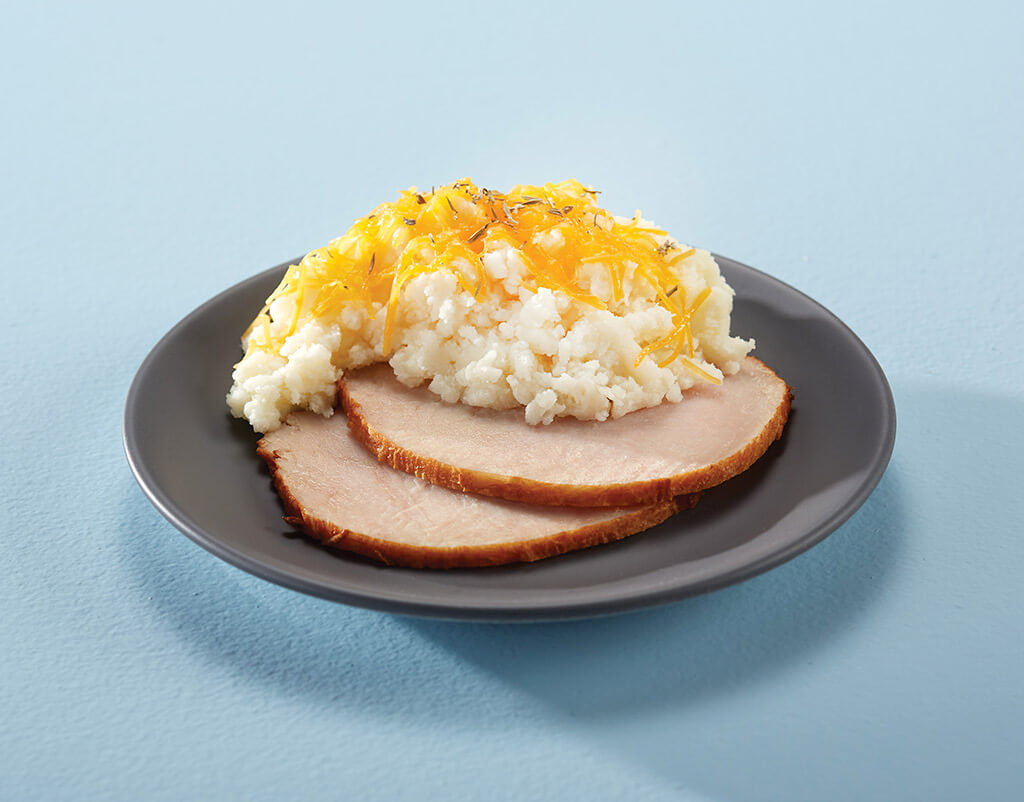 Holiday Cheesy Potato Turkey Stack
Serve students flavors worth celebrating. Sliced turkey breast baked in a rich seasoning blend of herbs and chicken broth forms the base of this dish. Stack with a generous scoop of garlic-buttery mashed potatoes and a sprinkle of shredded cheddar for a year-round favorite.
Ingredient
50 Portions
100 Portions
Chicken broth, low-sodium
50 Portions 2 cups
100 Portions 1 qt.
50 Portions 2 Tbsp.
100 Portions ¼ cup
50 Portions 2 Tbsp.
100 Portions ¼ cup
50 Portions 2 tsp.
100 Portions 1 Tbsp. 1 tsp.
Mashed potatoes, dehydrated, low-sodium, butter flavored
50 Portions 2 lbs.
100 Portions 4 lbs.
50 Portions 2 Tbsp.
100 Portions ¼ cup
Cheddar cheese, reduced fat, shredded
50 Portions 1 lb 9 oz.
100 Portions 3 lb 2 oz.
Thaw Turkey: Thaw under refrigeration for 48 hours. Hold at 41° F or lower.
Prepare Mashed Potatoes: Prepare potatoes according to manufacturer's instructions. Mix in granulated garlic. Heat to 165° F or higher for 15 seconds. Hold at 140° F or higher.
Prepare Seasoning Blend: Mix seasonings together. Whisk with chicken broth. Set aside to rehydrate for 10 minutes.
Heat and Season Turkey: Preheat oven to 350°F. Place two shingled layers of turkey slices in a 2" steamtable pan. Pour 1 cup seasoned broth over the top of each pan of turkey slices. Cover turkey with foil and bake in the oven for 20-25 minutes or until internal temperature reaches 165°F. Hold at 140° F or higher.
Build Turkey Stacks: Serve 2 slices seasoned turkey on each tray, top with ½ cup #8 scoop mashed potatoes, top with ½ oz (1 fl oz spoodle/2 Tbsp cheese).
CCP: Recommend serving with whole grain-rich roll(s) for an offer vs serve reimbursable meal.
Nutrients per Serving
Show More
Meat/Meat Alt 2.5 oz. eq.
Get All Things Butterball Delivered to Your Inbox
Find Your Broker