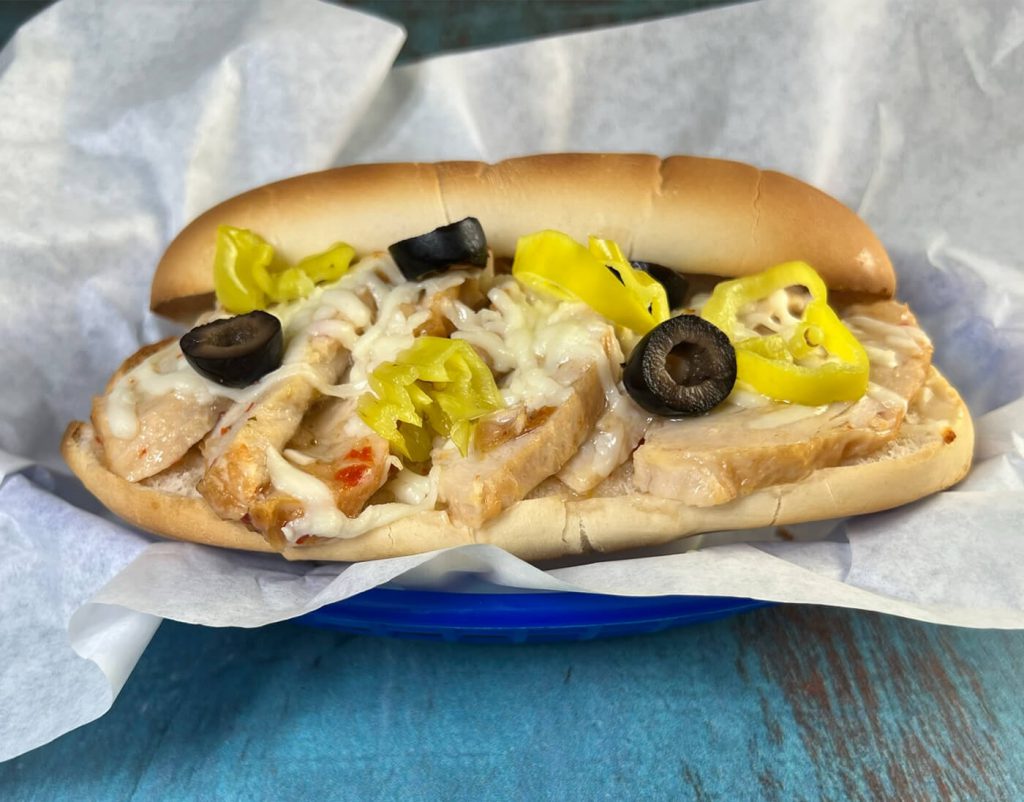 Italian Baked Turkey Subs
Ingredient
50 Portions
100 Portions
Italian dressing, prepared
50 Portions 96 fl. oz. (3 qts.)
100 Portions 192 fl. oz. (1 gal. 2 qt.)
50 Portions 1 lb. 9 oz.
100 Portions 3 lbs. 2 oz.
50 Portions 10 oz.
100 Portions 1 lb. 4 oz.
50 Portions 5 ½ oz.
100 Portions 11 oz.
White whole wheat hoagie rolls (at least 2 oz. eq. each)
50 Portions 50 each
100 Portions 100 each
Tomatoes, sliced (about 4 – 1/8" slices per serving)
50 Portions 5 lbs. 12 oz.
100 Portions 11 lbs. 8 oz.
Iceberg lettuce, shredded (1/4 cup serving)
50 Portions 2 lbs. 5 oz.
100 Portions 4 lbs. 10 oz.
Thaw turkey in the refrigerator two days before use.
To prepare the seasoned turkey, line a 4-inch full steam table pan with a 4-inch full perforated pan. Combine turkey with Italian dressing. Marinade in the refrigerator for two hours and then stir. Marinade for one more hour in the refrigerator.
Separate pans to drain excess marinade. Discard marinade and place seasoned turkey into the solid steam table pan. Cover and steam turkey in steamer for 30 minutes or until internal temperature reaches 165°F.
To build and batch heat the sandwiches, start by placing 6 fl. oz. (~4.3 oz.) of turkey on bottom half of each hoagie roll using a perforated spoodle. Top with 1 oz. spoodle (½ oz.) cheese. Place in the oven for 4 minutes or until cheese is melted all the way (may need to rotate pans for even heat), then top each sandwich with four pepperoncini's and four olive slices. Sliced tomatoes and lettuce are optional (not includes in nutrient analysis). Serve immediately.
CCP: Hold thawed turkey at 40° F or lower. When marinating, hold at 40° F or lower. When steaming turkey, heat to 165° F or higher for 15 seconds and hold at 140° F or higher.
Nutrients per Serving
Show More
Optional ingredients not included
Meat/Meat Alt 2.5 oz. eq.
Get All Things Butterball Delivered to Your Inbox
Find Your Broker