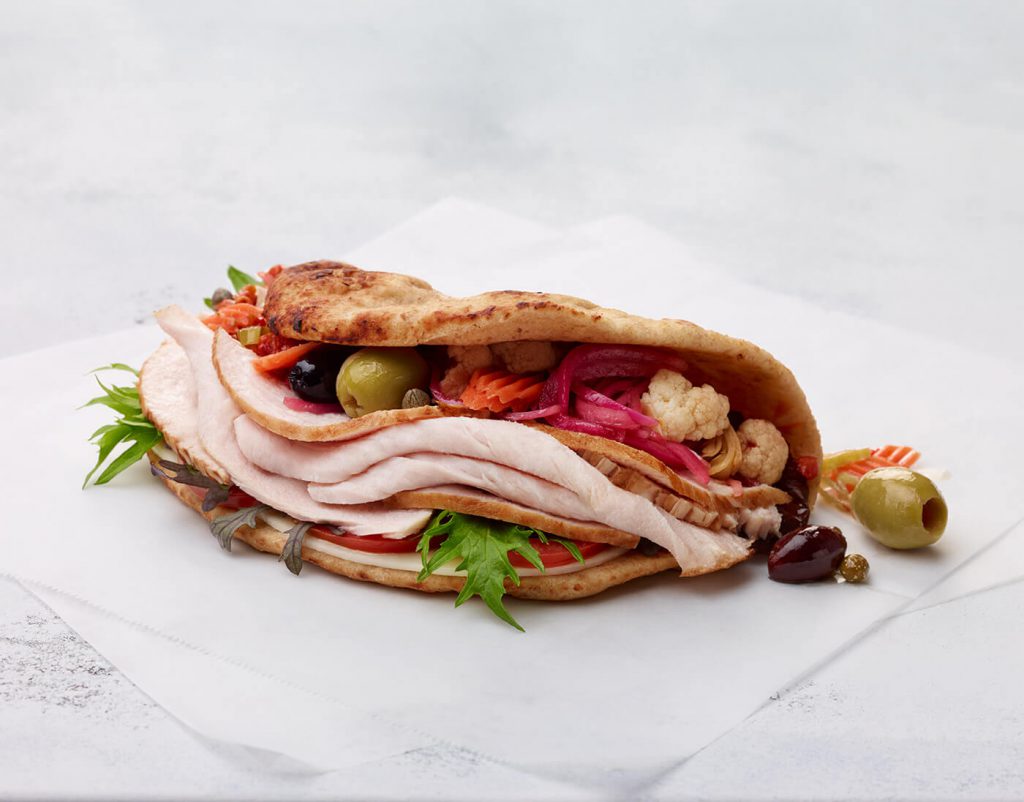 Italian Turkey Flatbread
Turkey breast is better for you—and better tasting—in this nontraditional take on the hoagie. The crunch of crisp house-made jardiniera and tangy pickled onions give this flatbread unforgettable flavor. Serve with a side of vegetable chips and an Italian beer for extra flair.
Ingredients
Italian Turkey Flatbread
Whole-grain flatbread, round, 10 inches wide
Directions
1.

Warm the flatbread in an oven or on a grill.

2.

Spread the Jardiniera over half the inside of the flatbread.

3.

Arrange the spring mix over the Jardiniera.

4.

Arrange the sliced tomatoes over the spring mix.

5.

Arrange the sliced provolone over the tomatoes.

6.

Fluff-stack the turkey over the sliced provolone.

7.

Spread the Marinated Onions over the sliced turkey.

8.

Fold the other half of the flatbread on top of the onions and serve.
Ingredients
Jardiniera
Cauliflower, sliced in small pieces
Green peppers, cut into 1-inch slices, thinly julienned
Fresh Italian parsley, chopped
Artichoke hearts, chopped
Sun-dried tomatoes, chopped
Directions
1.

Bring the vinegar, canola oil, water and seasonings to a boil. Then add the cauliflower, carrots, celery and green peppers, and simmer for 5 minutes.

2.

Remove from the heat and cool to 90°F. Then add the remaining ingredients.

3.

Chill to 40°F.
Ingredients
Marinated Onions
Red onions, thinly sliced
Sweet onions, thinly sliced
Directions
1.

Combine all the ingredients and blend well.

2.

Place the Marinated Onions into a storage container with a lid.

3.

Refrigerate for at least 1 hour before using.
Get All Things Butterball Delivered to Your Inbox
Find Your Broker