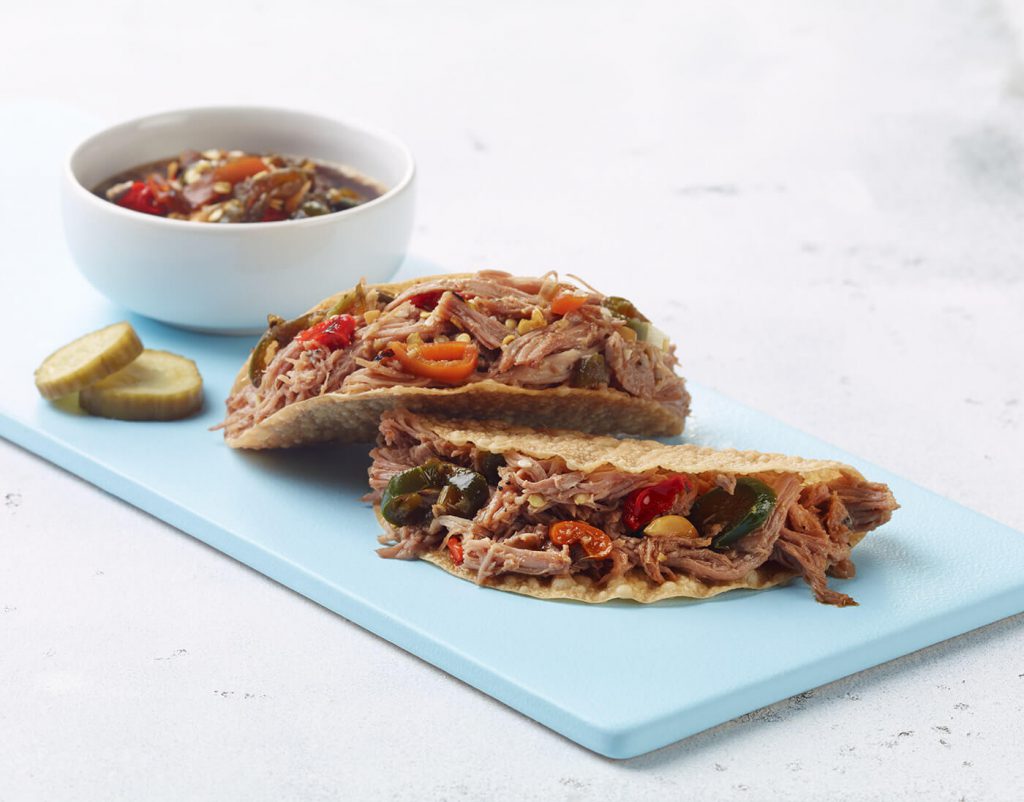 Korean BBQ Turkey Wonton Tacos
Take patrons' taste buds on a trip to Korea with these great-tasting wonton tacos. Soy sauce, ginger, sake and sesame oil add Asian-inspired flavor to tender turkey thigh roast.
Ingredients
Korean Bbq Turkey Wonton Tacos
Yield: 2 tacos
Roasted Hot Peppers and Vinegar Soy Sauce
Directions
1.

Place the pulled turkey into the Marinade and marinate for 1–2 hours, turning occasionally.

2.

Remove the turkey from the Marinade and allow the excess to drain. Then grill the marinated pulled turkey to a golden brown.

3.

Portion the turkey into the crispy wonton shells (form fried wontons into a taco shape), top with the Pickled Cucumbers, and serve with the Roasted Hot Peppers and Vinegar Soy Sauce on the side.

4.

For a recipe twist, substitute the wonton shells with Spicy Kimchi Pancakes or lettuce wraps.
Ingredients
Marinade
Yield: 2 cups
Sesame seeds, toasted, crushed
Green onions, thinly sliced
Directions
1.

Combine all the ingredients and blend well.
Ingredients
Pickled Cucumbers
Yield: 4 lbs.
English cucumbers, trimmed, sliced ⅛-inch thick
Green onions, thinly sliced, white and green parts
Serrano pepper, thinly sliced
Directions
1.

Combine the sliced cucumbers with the salt. Toss and allow to stand for 2 hours under refrigeration. Toss 2 or 3 times during the 2 hours. Drain and discard the salt water.

2.

Place the salted, drained cucumbers in a stainless steel bowl and toss with the green onions, garlic and peppers. Set aside.

3.

Combine the honey, rice vinegar and water in a pot and bring to a boil. Cover with a lid and simmer for 5 minutes.

4.

Pour the simmering liquid over the cucumbers and allow them to cool. The cucumbers must stay immersed in the liquid.

5.

Allow the cucumbers to mature for 1 day at room temperature, then refrigerate for 1 or 2 days.

6.

Drain before serving.
Ingredients
Roasted Hot Peppers And Vinegar Soy Sauce
Yield: 2 cups
Green onions, sliced, green and white parts
Cashews, toasted, chopped
Directions
1.

Wash the peppers and pat them dry.

2.

Blister the peppers in a hot cast-iron skillet, but do not char them.

3.

Pull the stems and discard them.

4.

Chop the peppers to ⅛ inch, seeds and all.

5.

Combine the chopped peppers with all the remaining ingredients.

6.

Place the sauce in a storage container with a lid and refrigerate.
Recipe Twists
Swap and substitute to make it your own.
Ingredients
Spicy Kimchi Pancakes
Yield: 24 pancakes
Red serrano peppers, thinly sliced
Green serrano peppers, thinly sliced
Green onions, thinly sliced
Cabbage kimchi, drained, chopped
Sesame seeds, dry toasted
Vegetable oil for sautéing, as needed
Dipping sauces, as needed
Directions
1.

Place the flour in a mixing bowl and form a well. Add the beaten eggs to the well and slowly add the water. Blend to a batter consistency.

2.

Stir in the peppers, onions, kimchi, sesame seeds and sesame oil. Blend well.

3.

Heat a slight coating of vegetable oil in a nonstick pan. Place a small number of bean sprouts in the pan and top with 1 tablespoon of the batter. Pan-fry for 2 minutes per side.

4.

Top with the Korean BBQ turkey and serve with dipping sauces.
Get All Things Butterball Delivered to Your Inbox
Find Your Broker