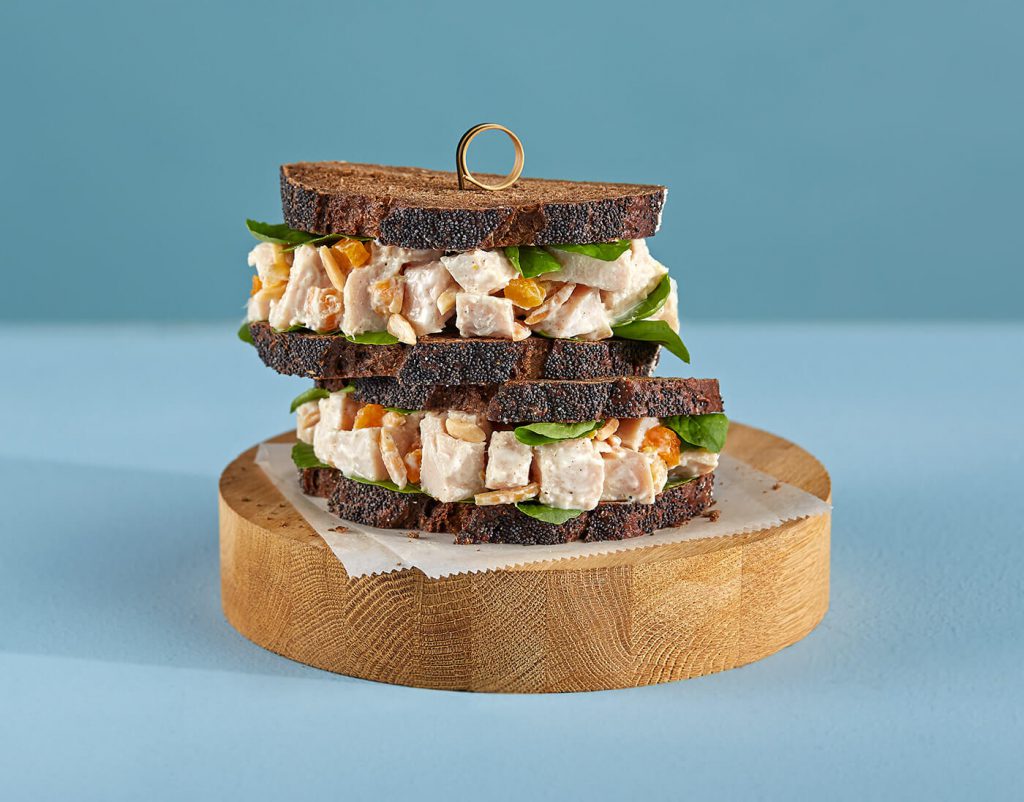 Moroccan-Spiced Turkey Salad Sandwich
Spices are the secret to rich flavor, and that's the case with this Moroccan-inspired dining adventure. Apricots and toasted almonds add depth and color to make an enticing sandwich. Serve on rye bread or a fresh pita as part of your lunch menu.
Ingredients
Moroccan-spiced Turkey Salad Sandwich
Yield: 6 sandwiches
Watercress or baby arugula
Directions
1.

Place the yogurt in a strainer lined with a cheesecloth or coffee filter over a bowl. Drain for 15 minutes, then discard the liquid.

2.

While the yogurt is being strained, in a small pan, toast the cumin seed over medium heat for 3–4 minutes or until fragrant. Move the toasted cumin to a spice grinder or a mortar and pestle and grind finely.

3.

In the same pan, toast the almonds over medium heat, stirring frequently, for 2–3 minutes or until fragrant and beginning to brown, then set them aside to cool.

4.

In a large bowl, combine the drained yogurt, cumin, lemon zest, honey and cinnamon until blended. Stir in the turkey, apricots and almonds. Season the turkey salad with salt and pepper to taste and refrigerate until ready to use.

5.

Spread the turkey salad on 6 slices of rye bread, adding 5–6 oz. per slice.

6.

Top with the watercress and remaining slices of bread.

7.

Serve.
Get All Things Butterball Delivered to Your Inbox
Find Your Broker