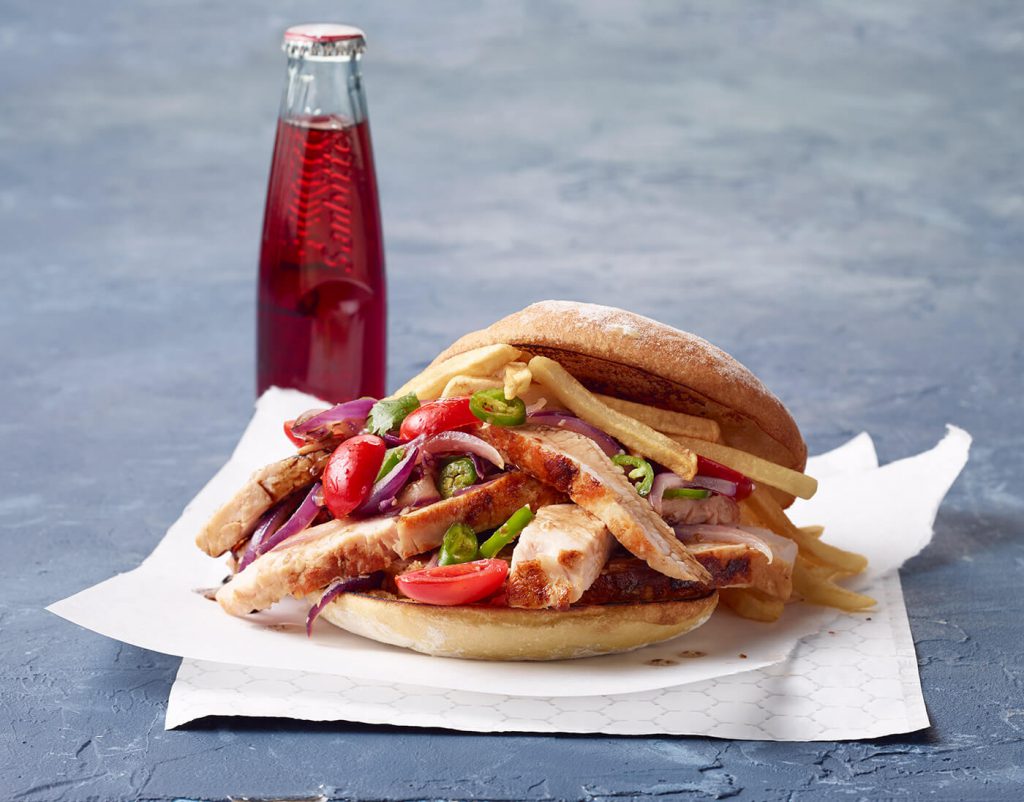 Pavo (Turkey) Saltado
Add a healthier twist to a traditional Peruvian offering with Pavo (Turkey) Saltado. This medley of seasoned turkey and crisp vegetables tastes delicious in a warm ciabatta roll. Consider serving with a traditional tomato salad for an extra-appealing meal.
Ingredients
Pavo (Turkey) Saltado
Yield: 4 sandwiches
Salt and black pepper, to taste
Fresh ginger, peeled and minced
Fresh chili pepper, aji amarillo or serrano, thinly sliced
Olive oil, extra virgin, as needed
Grape tomatoes, cut in half lengthwise
Matchstick potatoes, fried golden brown
Directions
1.

Season the turkey strips with salt, black pepper, garlic, ginger and chili.

2.

Heat the oil in a wok or skillet over medium-high heat.

3.

Add the seasoned turkey and stir-fry until golden brown.

4.

Add the onions and tomatoes and stir-fry quickly, about 25 seconds—the onions must remain crisp, and the tomatoes must maintain their shape.

5.

Immediately add the soy sauce and vinegar—stir quickly and adjust the seasoning as needed.

6.

Remove the stir-fry from the heat and mix in the cilantro leaves.

7.

Split the warmed roll down the center and fill with the stir-fried turkey.

8.

Over the turkey, sprinkle more cilantro leaves and add a drizzle of stir-fry cooking liquid.

9.

Top each sandwich with fried matchstick potatoes and serve.
Get All Things Butterball Delivered to Your Inbox
Find Your Broker