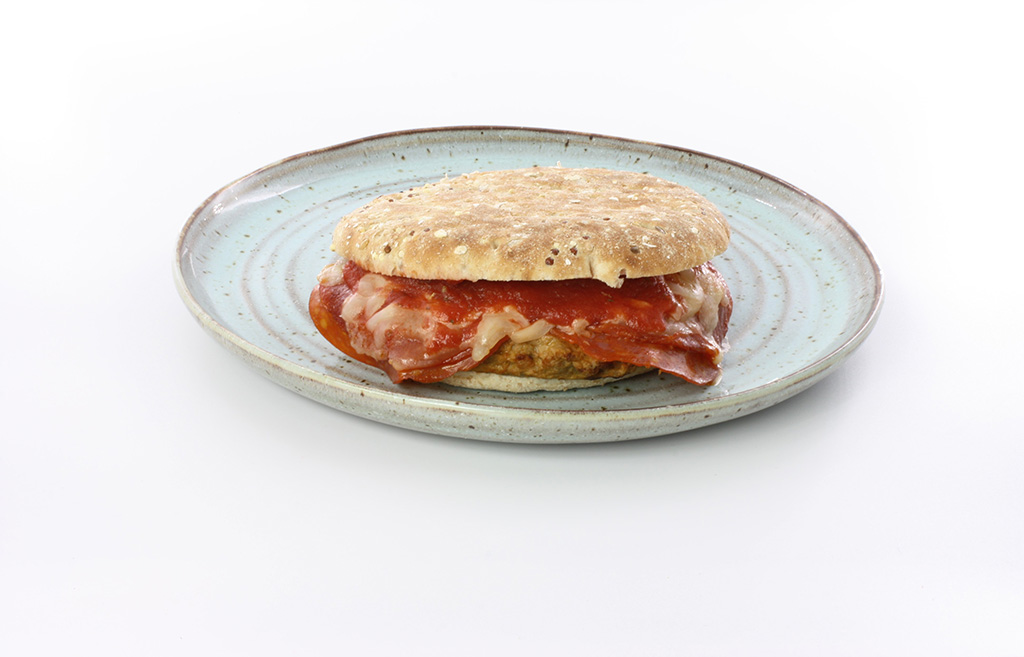 Ingredient
50 Portions
100 Portions
50 Portions 50 each
100 Portions 100 each
Hamburger Buns, WG, Hawaiian
50 Portions 50 each
100 Portions 100 each
Mozzarella Cheese, shredded
50 Portions 25 oz (.5 oz per portion)
100 Portions 50 oz (.5 oz per portion)
50 Portions 15.4 oz/200 slices (4 slices per portion)
100 Portions 30.75 oz/400 slices (4 slices per portion)
50 Portions 6.25 cups
100 Portions 12.5 cups
50 Portions 3 oz
100 Portions 6 oz
50 Portions 1 Tbsp
100 Portions 2 Tbsp
50 Portions 2 Tbsp
100 Portions ¼ cup
50 Portions 2 Tbsp
100 Portions ¼ cup
Sandwich Thins, whole grain
50 Portions 50 each
100 Portions 100 each
Thaw burgers in the refrigerator the night before.
Preheat oven to 350 °F.
Make marinara: In a 4"- half steamtable pan or a large bowl, whisk together tomato sauce, tomato paste, Italian seasoning, granulated garlic, and dehydrated onions. Whisk until tomato paste dissolves into the mixture and seasonings are well incorporated.
Place turkey burgers on full sheet pans. Top each patty with 2 Tbsp (#30 scoop) of marinara sauce. Top with 4 pepperoni slices and sprinkle with 1/2 oz mozzarella cheese. Bake in the oven for 20-25 minutes or until internal temperature reaches 165 °F.
Assemble pizza burgers: Place pizza patties between each bun. Serve.
Nutrients per Serving
Show More
Total Dietary Fiber 3.6 g
Meat/Meat Alt 2.5 oz. eq.
Get All Things Butterball Delivered to Your Inbox
Find Your Broker