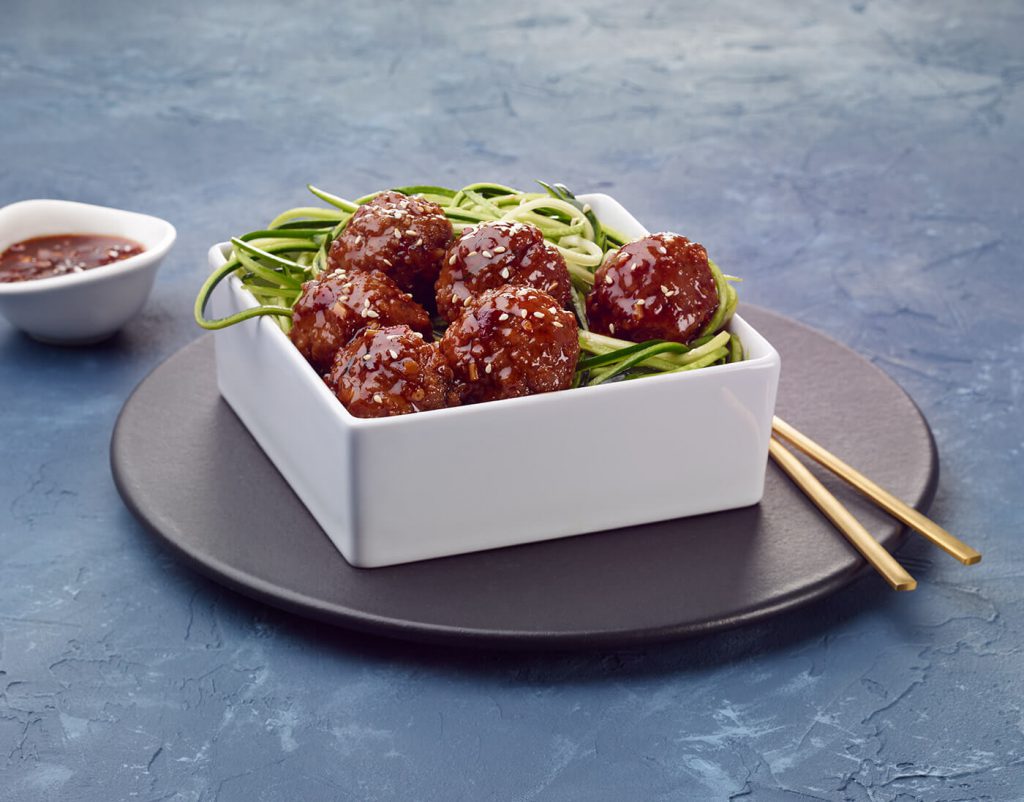 Singapore Meatballs and Zoodles
Turkey meatballs are coated in an Asian sauce seasoned with soy and ginger, then served on a bed of low-carb zucchini noodles. Pair this easy-to-prep dish with a citrus beer or sauvignon blanc.
Ingredients
Singapore Meatballs And Zoodles
Yield: 4 bowls
Fresh ginger, peeled and chopped fine
Zucchini, large, cut into noodles
Directions
1.

Combine the mirin, sugar, soy sauce, chopped garlic, chopped ginger and diced onions in a saucepan and bring to a boil.

2.

Reduce the heat and simmer for 5 minutes.

3.

Add in the turkey meatballs and Thai sweet chili sauce and return to a boil.

4.

Reduce the heat and simmer for 12–15 minutes (until the meatballs have reached an internal temperature of 165℉).

5.

In a large pan, heat the sesame oil over medium-high heat for about 2 minutes and add the zucchini noodles. Sauté the noodles for 30–45 seconds, until cooked but firm, then portion into 4 individual pasta bowls or a large dish.

6.

Remove the individual meatballs from the saucepan and place them over the zucchini noodles (6 per portion).

7.

Garnish with sesame seeds and serve.
Get All Things Butterball Delivered to Your Inbox
Find Your Broker