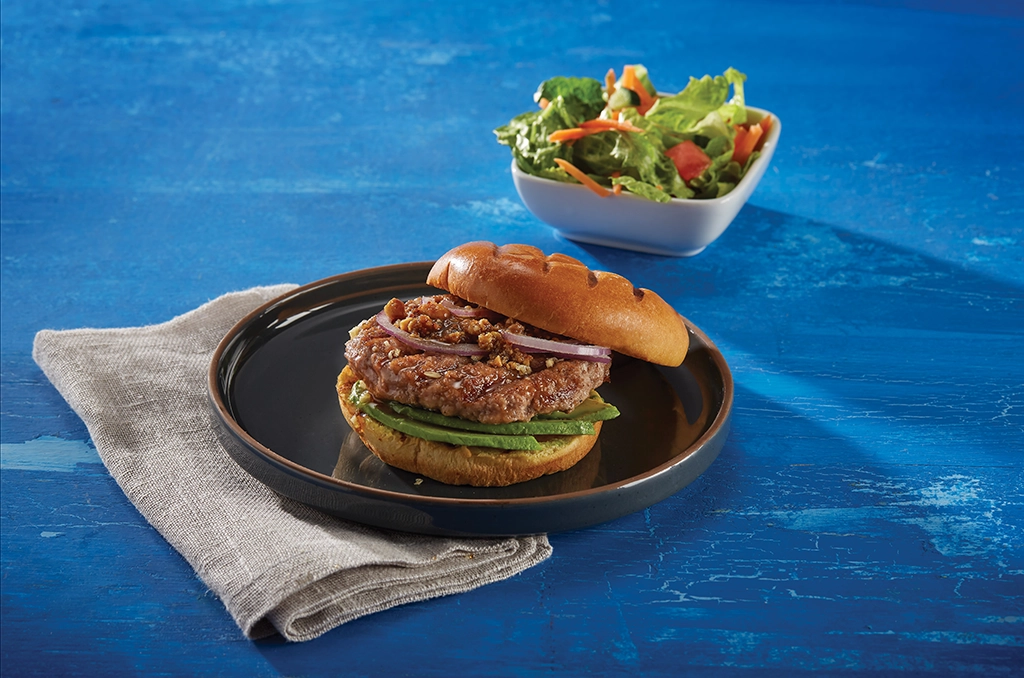 Spicy Honey Turkey Burger
With some sweet heat, this turkey burger checks all the boxes for a unique and nutritious lunch offering. It features a seasoned ground turkey patty brushed with a honey-and-ancho-chili glaze and a spoonful of nutty salsa macha. Serve over avocado slices on a toasted brioche bun.
Ingredients
ground ancho chile, divided
garlic, minced and divided
Directions
Make the burgers:

1.

To the ground turkey, add the salt, ½ teaspoon ground ancho and half the minced garlic. Blend gently with your hands just until the spices are evenly distributed. Form the turkey into four patties. Wrap and refrigerate until needed.
Ingredients
very thin red onion slices
Directions
Make the glaze:

1.

Stir together the remaining ancho and garlic. Add the honey, one tablespoon warm water and blend. Set aside until needed.
Ingredients
Salsa Macha
Yield: 1 cup
Directions
Make the salsa macha:

1.

In a medium skillet, warm the olive oil over medium-low heat. Stir in the peanuts, pecans, pepitas, pine nuts and garlic. Stir until the nuts and garlic are golden brown, three to five minutes. Add the ancho, stir for 30 seconds and remove from heat. Let cool five minutes.

2.

Put all the salsa macha ingredients into a food processor and pulse until a wet paste forms. The salsa should be coarsely textured, with small bits of nuts and seeds throughout. Add the honey and vinegar. Pulse until incorporated. Season to taste with salt.

To assemble:

1.

Preheat the grill.

2.

Grill the burger rolls on all sides – four sides per roll. Remove to plates or platter. On each roll bottom lay ¼ of the avocado slices.

3.

Grill the burgers on both sides until nicely charred and almost cooked through. Brush them with some glaze.. Cook until internal temperature is 165 degrees F. Turn and glaze the second side. Remove and set on avocado slices.

4.

Top with onion slices, a spoonful of salsa macha, romaine and roll tops. Serve hot, with extra salsa macha alongside.
Get All Things Butterball Delivered to Your Inbox
Find Your Broker