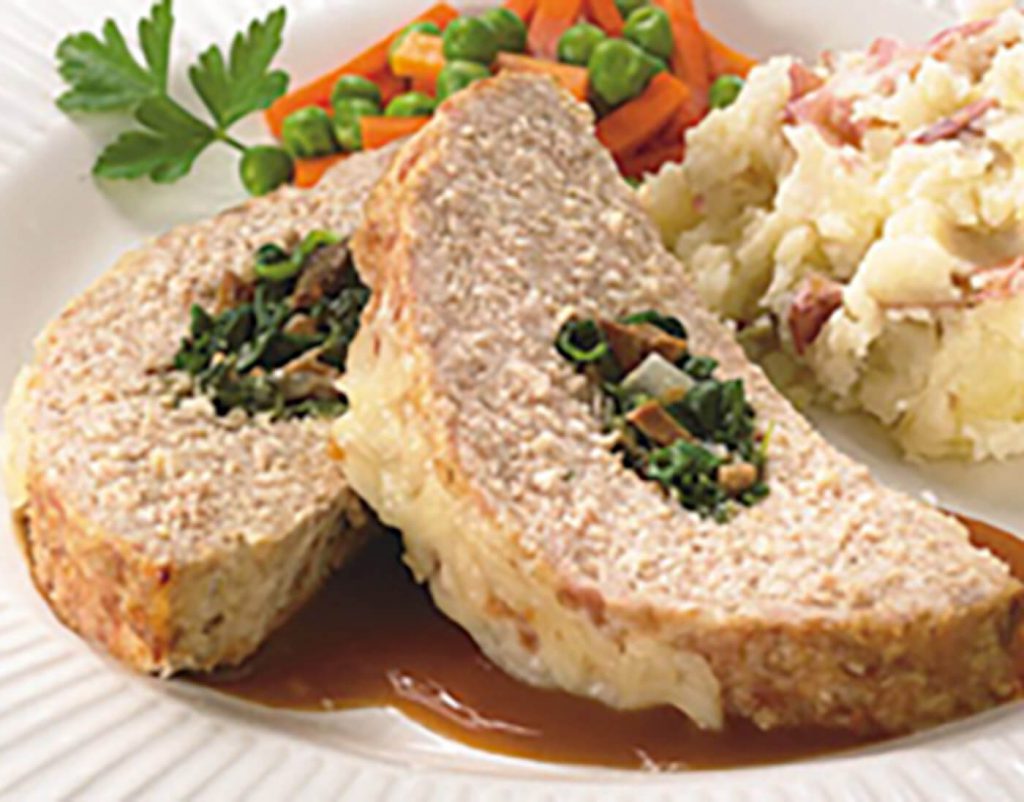 Spinach-Stuffed Turkey Meatloaf
Ingredients
Spinach-Stuffed Turkey Meatloaf
Yield: 10 servings
Porcini mushrooms, coarsely chopped
Freshly ground black pepper
Whole-milk mozzarella cheese, shredded
Quick-cooking oats, uncooked
Directions
1.

Sauté mushrooms, onion and garlic in a sauté pan over medium heat. Remove from heat, drain pan of excess juices. Add in spinach, salt, pepper, 1/4 cup of the mozzarella cheese and the Parmesan cheese. Reserve.

2.

Combine ground turkey and remaining ingredients in a large mixing bowl. Spoon 2⁄3 of mixture into a lightly greased hotel pan. Make a 7 x 1 ½-inch indentation lengthwise down the center of the turkey mixture; fill with spinach mixture. Spoon remaining turkey mixture on top and press edges to seal.

3.

Bake at 350°F until cooked through, about 35 minutes. Sprinkle remaining 1/4 cup of mozzarella cheese on top of the loaf and bake until cheese melts, several more minutes. Remove from pan; let rest 5 minutes before serving.

Note.

Recipe and image furnished by Plate's Turkey Inspiration insert.
Get All Things Butterball Delivered to Your Inbox
Find Your Broker