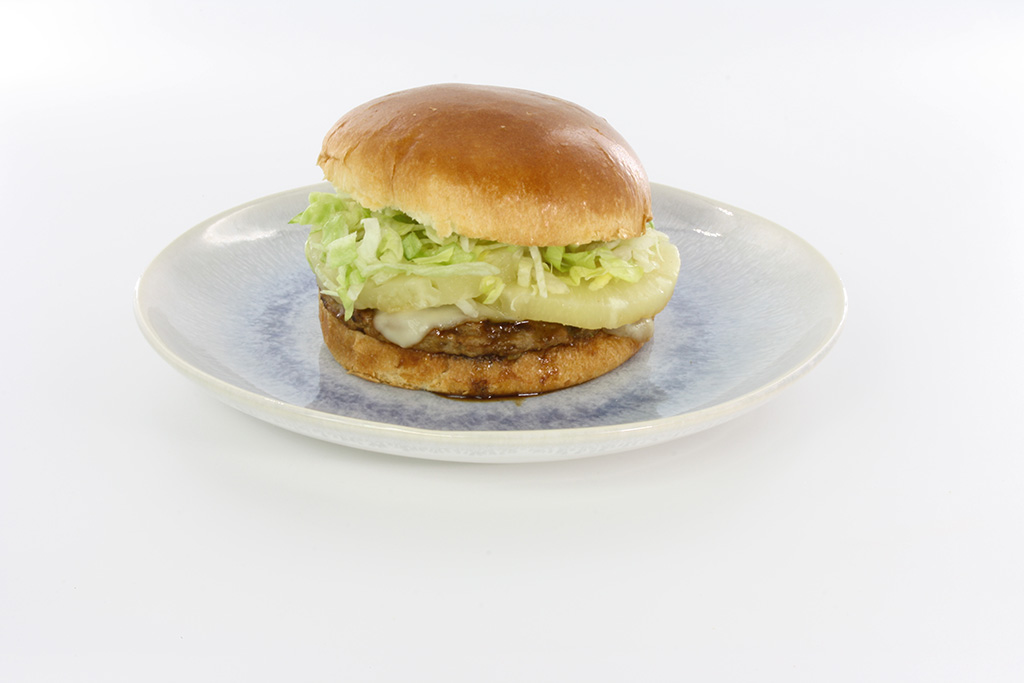 Ingredient
50 Portions
100 Portions
50 Portions 50 each
100 Portions 100 each
50 Portions ¼ cup
100 Portions ½ cup
50 Portions 1 cup
100 Portions 2 cups
50 Portions 1 cup
100 Portions 2 cups
Soy sauce, less sodium, Kikkoman
50 Portions 1 pint
100 Portions 1 quart
50 Portions .5 cup
100 Portions 1 cup
50 Portions ½ Tbsp
100 Portions 1 Tbsp
50 Portions ½ Tbsp
100 Portions 1 Tbsp
50 Portions 25 oz /50 slices (.5 oz each)
100 Portions 50 oz/100 slices (.5 oz each)
50 Portions 100 slices (2 slices per burger)
100 Portions 200 slices (2 slices per burger)
50 Portions ¼ c per portion (2#, 4.25 oz)
100 Portions ¼ c per portion (4#, 8.50 oz)
Hamburger Buns, WG, Hawaiian
50 Portions 50 each
100 Portions 100 each
Thaw burgers in the refrigerator the night before.
Preheat oven to 350 °F.
Prepare teriyaki sauce: In a small bowl combine cornstarch and cold water. Whisk well to make a slurry. In a medium pot, whisk together pineapple juice, soy sauce, brown sugar, granulated garlic and onion powder. Blend slurry by whisking into teriyaki sauce in a slow steady stream. Bring to a boil. Reduce heat to simmer and cook until sauce is nectar thick. Do not burn or scorch.
In a 2" - full steamtable pan, shingle 25 thawed burgers. Measure 2 cups of teriyaki sauce for each pan of 25 burgers. Pour sauce over each burger by slightly lifting each one to get sauce between the shingled burgers. Brush the remaining sauce over the tops of the burgers until they are covered with sauce. Cover the pan. Bake in the oven for 20-25 minutes or until internal temperature reaches 165 °F.
Steam pineapple rings: Place a 4" - perforated steamtable pan inside a 6" - full steamtable pan. Add 2 cans of drained pineapple slices in the perforated pan. Steam for 5 minutes.
Assemble burgers: Top the bottoms of each bun with a burger, then 1 slice of cheese, 2 slices of pineapple, and 1/4 cup lettuce. Top with the top bun and serve.
Nutrients per Serving
Show More
Total Dietary Fiber 3.8 g
Meat/Meat Alt 2.5 oz. eq.
Get All Things Butterball Delivered to Your Inbox
Find Your Broker