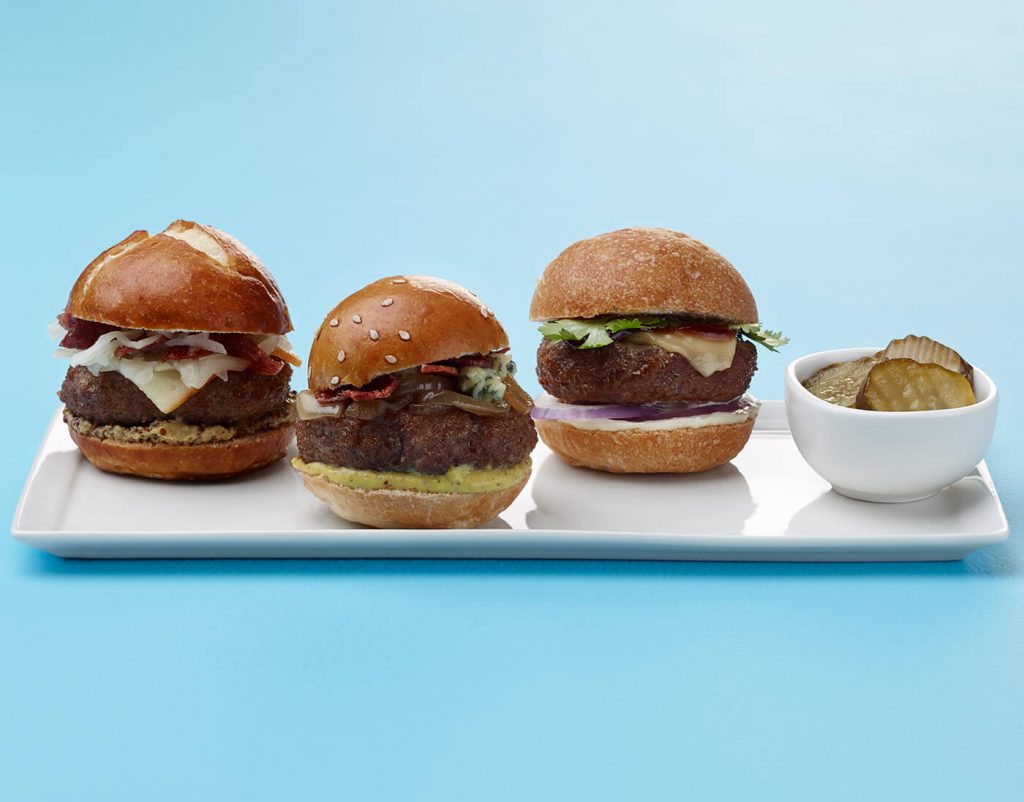 Three Philosophers Sliders
These mini turkey burgers have three distinctive flavor profiles—perfect for indecisive diners. Add them to your menu as an appetizer or happy hour special, or serve with truffle fries for lunch or dinner.
Ingredients
Philosopher #1
Yield: 1 slider
Salt and pepper, to taste
Pretzel slider roll, butter toasted
Directions
1.

Hand-form the ground turkey into patties. Season with salt and pepper.

2.

Cook each of the burger patties until done, with an internal temperature of 165°F. Layer with sliced cheese and keep the patties on the heat source until the cheese is melted.

3.

Spread the bottom bun of each roll with mustard, dijonnaise or mayonnaise. Add the corresponding patties on top.

4.

Assemble the remaining ingredients on each, and serve.
Ingredients
Philosopher #2
Yield: 1 slider
Turkey Bacon, crisp, chopped, drizzled with honey
Salt and pepper, to taste
Dark rye slider roll, butter toasted
Directions
Ingredients
Philosopher #3
Yield: 1 slider
Salt and pepper, to taste
Brioche slider roll, butter toasted
Sweet Baby Ray's Honey Barbecue Sauce, spread onto the top bun
Directions
Get All Things Butterball Delivered to Your Inbox
Find Your Broker