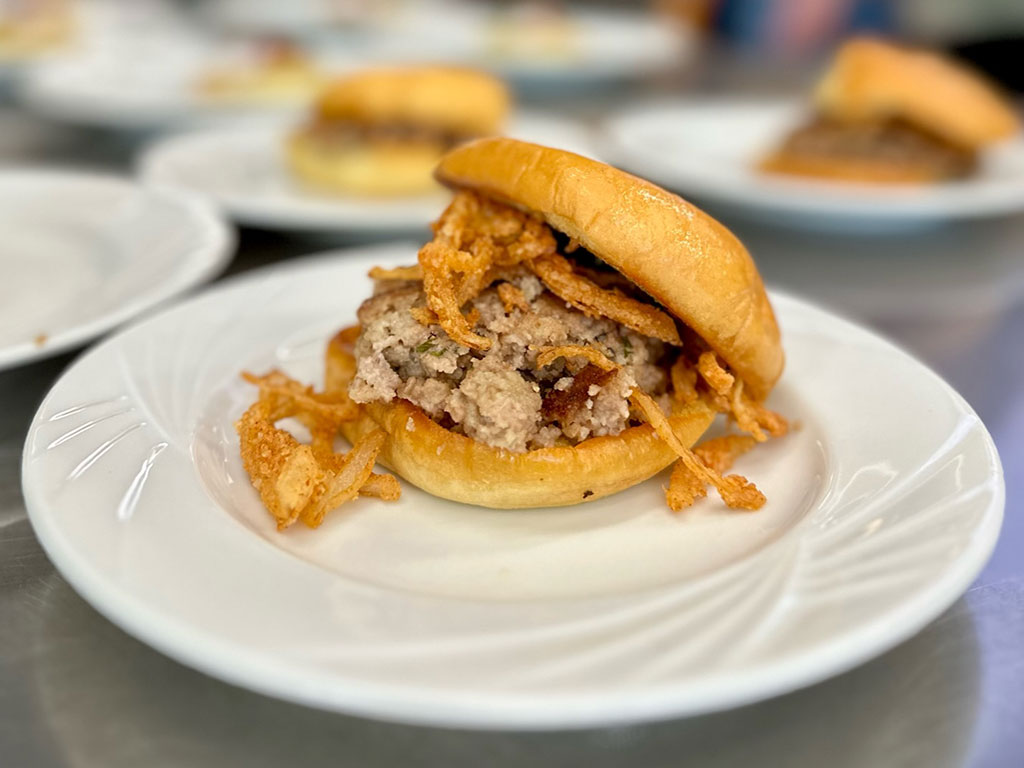 Toasted Panko Turkey Cakes with Jalapeño Jam

See More
This sandwich from Chef Sam Sheehan boasts a perfect mix of flavors and textures, making it a unique lunch offering. With crispy turkey cakes, fried onions and a sweet-and-spicy jalapeño jam, it's sure to light up tastebuds. Yield: 4 martins potato rolls
Ingredients
Jam
Jalapeños seeded and minced
Directions
1.

Combined and boil until nappe consistency. Set aside to cool in the pot, once cool transfer to a glass jar.
Ingredients
Cakes
Of panko toasted in a sauté pan
Directions
1.

Toast panko in a saute pan until golden brown, remove from heat and season with a pinch of salt and pepper, and 1 Tsp cayenne. Set aside.

2.

Season the turkey with 3tbl salt 1 tbl pepper and 1 tsp cayenne 1 tsp cumin and brown in a sauté until fully cooked 155 degrees Fahrenheit. Cool uncovered until below 40 degrees Fahrenheit.

3.

Once cooled combine eggs with meat and incorporate panko mixture, mix well and portion into 4 - 4oz portions. Set aside.
Directions
1.

Combine milk, lemon juice, and hot sauce, Set aside.

2.

In a separate bowl combine flour and all seasonings, set aside.

3.

Julienne the onion and place in the milk mixture, allow to soak for 1-2 minutes, meanwhile fill a medium sized pot 3 inches with oil and heat up to 300 degrees Fahrenheit, be careful to control the heat when approaching the 300 degree point as to not overheat and disrupt the oil.

4.

Remove onions from milk, with a strainer and place into the flour mixture, ensure all onions get dredged entirely, and once at temp drop in the oil for 90-120 seconds, until golden brown and crispy. Allow more time to cook if using a smaller pot, do not overfill the pot as the oil temperature will fall and cook unevenly. You can avoid this issue by cooking small amounts of the onions at a time to maintain 300 degree oil temperatures.

5.

Once all the onions are cooked and crispy, check for seasoning, add salt and pepper if necessary and set aside at room temperature. Store on a plate lined with a paper towel to catch excess grease.

Build

1.

In a nonstick pan, heat up desired fat, I recommend oil or butter, once pan and fat are hot, sear the cakes, be cautious not to overcrowd the pan, allow 2 to 3 minutes on each side to give the cakes a nice crispy sear, remove your cakes.
Get All Things Butterball Delivered to Your Inbox
Find Your Broker