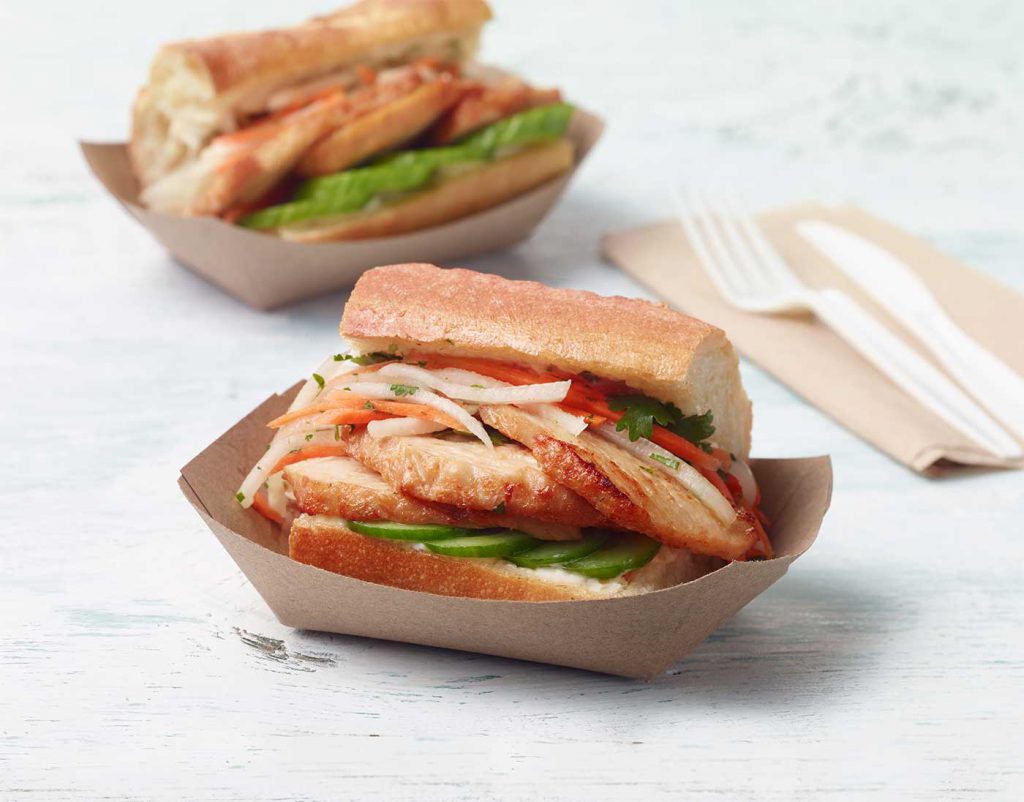 Turkey Banh Mi
Boost lunch participation with a kid-friendly version of a Vietnamese-style sandwich. Exploring global cuisines on school menus helps maintain student interest and inspire curiosity. Try this better-for-you option and satisfy both students and parents.
Ingredients
Turkey Banh Mi
Yield: 4 sandwiches
Cucumber, peeled then sliced
Directions
1.

Cut the baguette in half lengthwise and warm it in the oven for 2 minutes, then pull some of the center of the bread from the bottom portion of the baguette to make a cavity for the filling.

2.

Spread the mayonnaise on the top portion of the baguette.

3.

Fill the cavity with the turkey medallions, cucumber slices and Marinated Vegetables.

4.

Sprinkle with the cilantro.

5.

Cut the baguette into 4 equal portions.

6.

Serve.
Ingredients
Marinated Vegetables
Yield: Approx. 6 oz.
Carrot, cut into 1/16-inch x 1 ¼-inch julienne
Daikon radish, cut into 1/16-inch x 1 ¼-inch julienne
White onion, cut into 1/16-inch x 1 ¼-inch julienne
Directions
1.

Pour the rice vinegar, water and sugar into a saucepan over medium heat. Bring to a boil and stir for about 1 minute, until the sugar has dissolved, then allow the mixture to cool.

2.

In a bowl, pour the cooled vinegar mixture over the carrots, radishes and onions, and allow them to stand for at least 30 minutes.

3.

Drain off the excess vinegar mixture after the vegetables have marinated and then refrigerate them.
Get All Things Butterball Delivered to Your Inbox
Find Your Broker