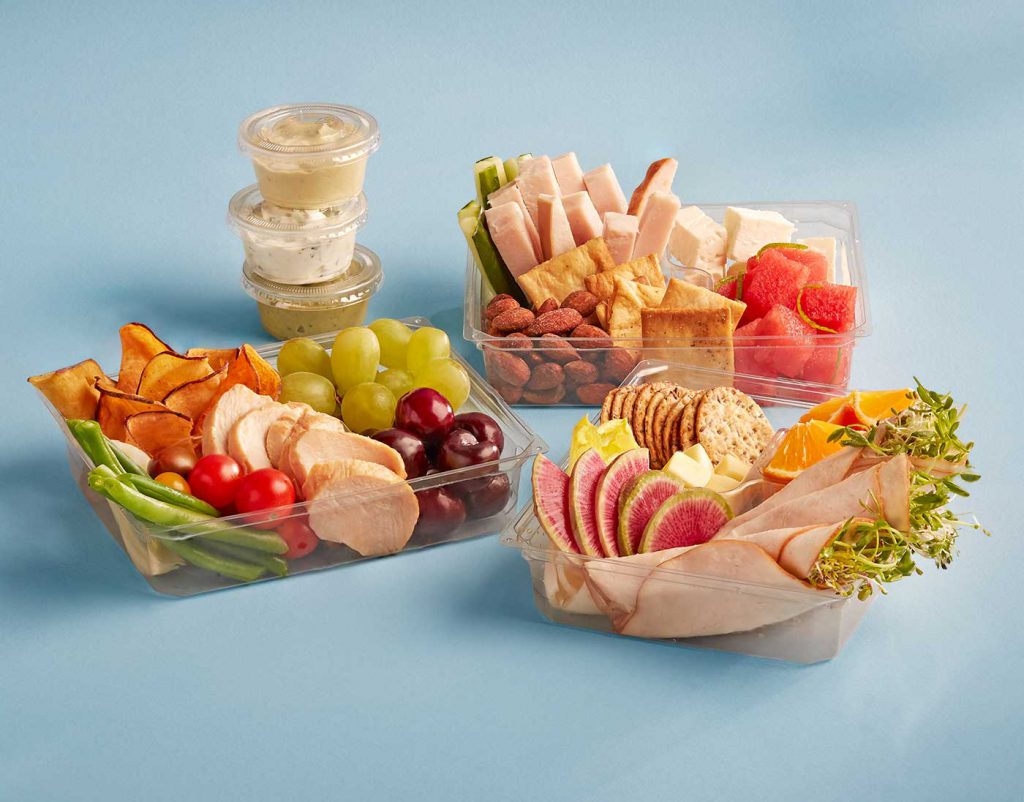 Turkey Bento Boxes
This delicious and convenient assortment is a dream for on-the-go diners. Get inspired with three recipes that showcase on-trend ingredients and global sauces. With turkey's versatility at play, chefs can explore infinite possibilities.
Ingredients
Bento Box #1
Yield: 1 serving
Watermelon, compressed with smoked salt and lime zest
Directions
1.

Working in batches, lightly squeeze the grated cucumber between your hands over the sink to release excess moisture. Transfer the squeezed cucumber into a bowl and repeat with remaining cucumber.

2.

Add yogurt, oil, herbs, lemon juice, garlic and salt to the bowl. Stir to blend.

3.

Serve Tzatziki immediately or chill for later use. Keep Tzatziki well chilled for about 4 days.
Ingredients
Bento Box #2
Black sesame rice crackers
Clementines, cut into wedges
Directions
1.

Lay turkey slices on flat surface. Sprinkle with togarashi (optional) and spread with 1 teaspoon wasabi mayonnaise.

2.

Add pea shoots and sprouts; roll turkey slices up. Sprinkle outside of turkey roll with togarashi.
Ingredients
Bento Box #3
Fennel sticks, heirloom cherry tomatoes and blanched, chilled green beans
Green grapes and cherries
Directions
Ingredients
Tzatziki Sauce
Grated cucumber (from about 1 medium 10 oz. cucumber), no need to peel or seed
Juice and zest of one lemon
Directions
Ingredients
Watermelon Compressed With Smoked Salt And Lime Zest
Watermelon, medium, about 3 lbs.
Directions
1.

Peel watermelon and cut into 1-inch cubes. Sprinkle them with salt and lime zest. Place cubes on flat plate that will fit in a large sandwich bag. Seal, pressing out as much air as possible. Place something on top of bag that will provide gentle, even pressure. Chill for 2 hours.

2.

When the watermelon is ready, it will have a denser texture.
Ingredients
Green Goddess Hummus
Water, if needed to adjust texture
Directions
1.

Put all ingredients except salt and water into food processor. Process until very smooth. Adjust texture with water if needed. Season to taste with salt.
Get All Things Butterball Delivered to Your Inbox
Find Your Broker