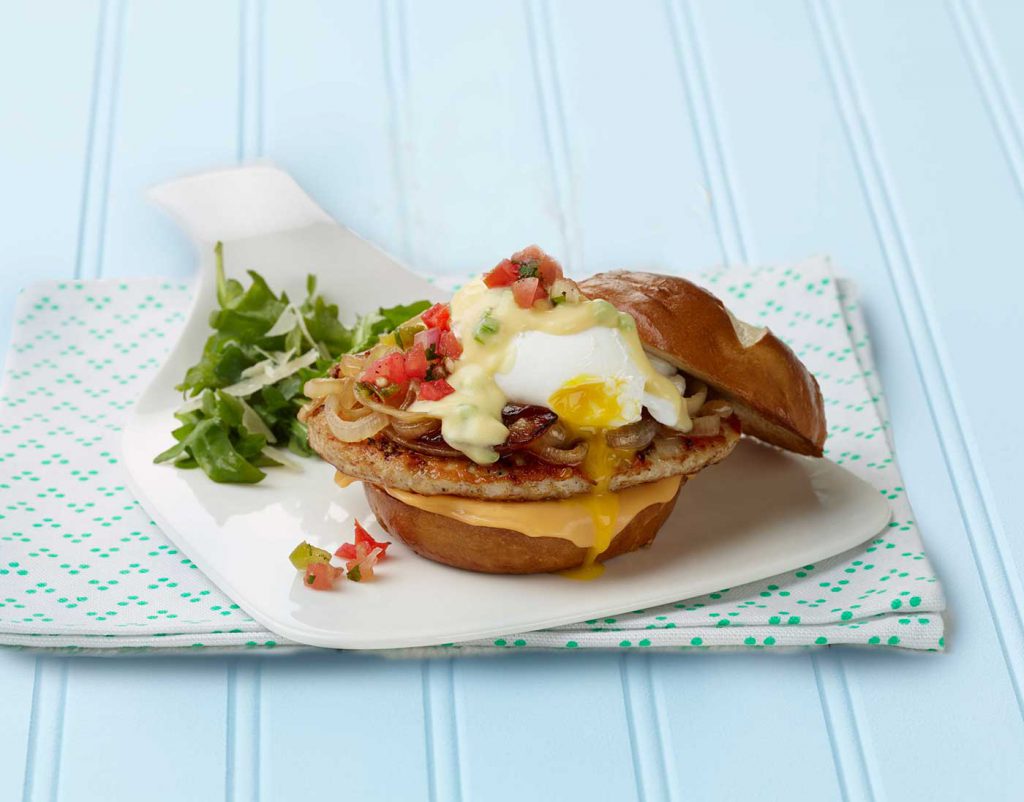 Turkey Burger Benedict
With a poached egg and jalapeño hollandaise sauce, this freshly grilled turkey burger makes a mouthwatering addition to breakfast and brunch menus. Pair with crispy hash browns and a spicy Bloody Maria to create a signature special.
Ingredients
Turkey Burger Benedict
Sautéed onions, golden brown
Jalapeño Hollandaise Sauce
Grape tomatoes, as needed
Directions
1.

Brush both sides of the brioche roll or bagel with the soft butter and then toast. Spread with shredded cheddar and top with sautéed onions.

2.

Assemble the burger by stacking the cooked and grilled turkey burger over the bottom half of the roll or bagel. Place the poached egg over the burger.

3.

Layer Pico de Gallo and Jalapeño Hollandaise Sauce over the egg and top the sandwich with the remaining roll or bagel half.

4.

Garnish with baby arugula and grape tomatoes.
Ingredients
Jalapeño Hollandaise Sauce
Cracked black peppercorns
Egg yolks, fresh or pasteurized
Butter, cut into 1-inch cubes
Hot sauce or cayenne, to taste
Fresh jalapeños, finely diced
Directions
1.

Combine the shallots, peppercorns and vinegar in a small non-reactive saucepan and reduce over medium heat until nearly dry.

2.

Add the water to the reduction and strain into a clean stainless steel bowl.

3.

Add the egg yolks, lemon juice, cubed butter, salt, pepper and hot sauce.

4.

Place the bowl over simmering water, heating and whisking constantly until the sauce thickens and forms a ribbon.

5.

Adjust the seasoning as needed and add diced jalapeños.

6.

The sauce is ready to serve and may be held for one hour.
Ingredients
Pico de Gallo
Green onions, cleaned (white and green parts), ¼-inch diced
Fresh plum tomatoes, ripe, ¼-inch diced
Jalapeño, seeds removed, chopped fine
Cilantro, large stems removed, chopped fine
Salt and black pepper, to taste
Directions
1.

Combine all the ingredients and blend well. Adjust the seasonings as needed.

2.

Cover and marinate under refrigeration for at least 30 minutes before serving.
Get All Things Butterball Delivered to Your Inbox
Find Your Broker