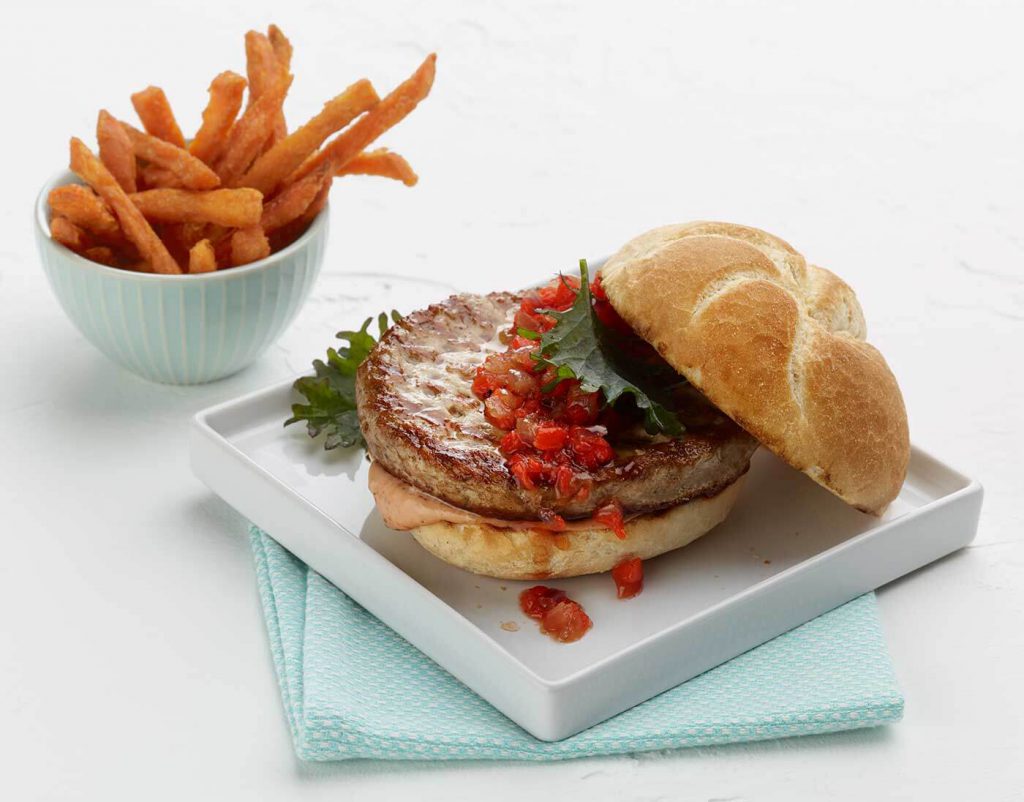 White Turkey Burger with Cranberry Chili Chutney
Missing something from your burger lineup? This is it. The key ingredient to this bold burger is cranberry chili chutney relish. Turkey and cranberry have never tasted so good.
Ingredients
White Turkey Burger
White cheddar cheese (optional)
Cranberry Chili Chutney Relish
Directions
1.

Grill-toast the bun, then spread the bottom bun with the spicy mayonnaise.

2.

Grill the white turkey burger to 165°F internal temperature.

3.

Top the burger with white cheddar cheese, then place the burger, cheddar side down, on the bottom bun.

4.

Portion the Cranberry Chili Chutney Relish over the burger, set the arugula over the chutney and place the crown over the burger.
Ingredients
Cranberry Chili Chutney Relish
Yield: 1 ½ quarts
Vidalia onions, small dice
Fresh Fresno chilies, seeds removed, ¼-inch dice
Champagne vinegar or white wine vinegar
Fresh ginger, peeled, grated
Fresh jalapeños, finely chopped
Sea salt or kosher salt, to taste
Directions
1.

Sauté the garlic and onions in the peanut oil for 2–3 minutes in a heavy-duty 2-quart stainless steel or enamel-coated saucepan.

2.

Add the diced chilies and sauté for 2 minutes.

3.

Add the remaining ingredients and bring to a boil, then simmer until the liquid reduces by 90%, stirring occasionally. The chutney will thicken.

4.

Pour the chutney into a storage container and cover with a lid. The flavors will blend and develop.
Get All Things Butterball Delivered to Your Inbox
Find Your Broker