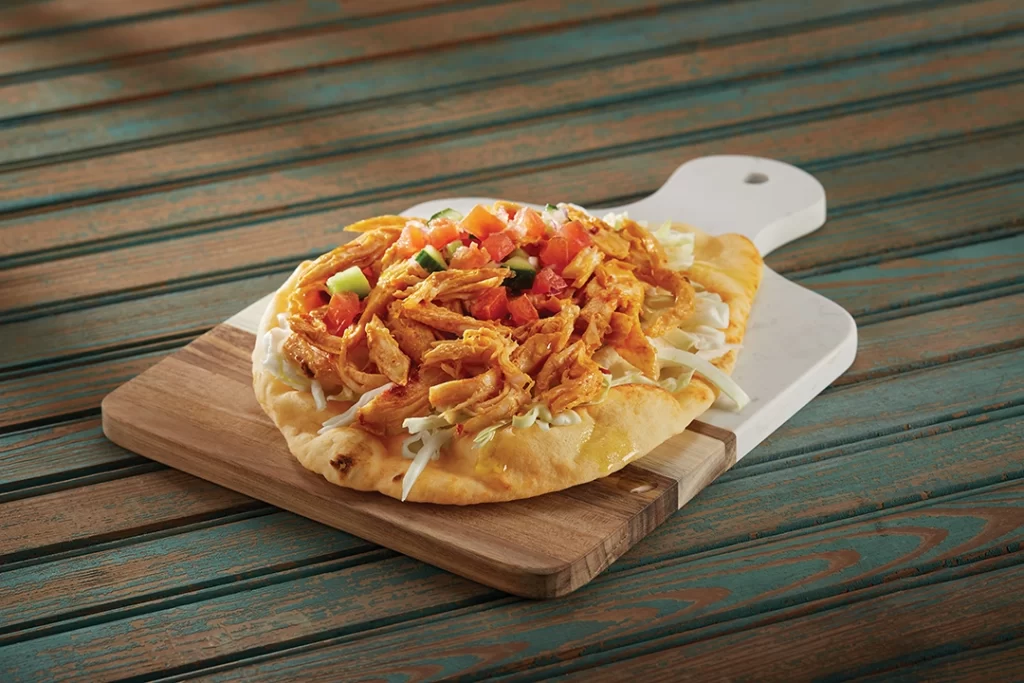 Turkey Flatbread with Rose Harissa and Tahini
Inspired by Tunisian and Israeli cuisines, this flatbread is the perfect way to meet diners' demand for Middle Eastern flavors. Shredded turkey breast, rose harissa and tahini create a savory and slightly floral flavor combination, while fresh Israeli salad and chopped herbs offer a burst of juicy flavor.
Ingredients
Turkey Salad
very finely shredded cabbage
Directions
Make the turkey salad:

1.

Toss together the turkey, mayonnaise, lemon juice, tahini and harrissa. Set aside.
Ingredients
Israeli Salad
mixed chopped fresh herbs – parsley, cilantro, mint and dill
olive oil, depending on the juiciness of the tomato
flatbread, lightly charred over a flame
Salt and freshly ground black pepper, to taste
Additional olive oil, for drizzling
Directions
Make the Israeli salad:

1.

Stir together all the ingredients for the Israeli salad.

To assemble:

1.

Set a piece of flatbread on each of 4 plates, top each with a small nest of cabbage and a spoonful of Israeli salad. Add ¼ of the turkey salad, top with more Israeli salad and drizzle with olive oil. Garnish with a large lemon wedge and serve.
Get All Things Butterball Delivered to Your Inbox
Find Your Broker