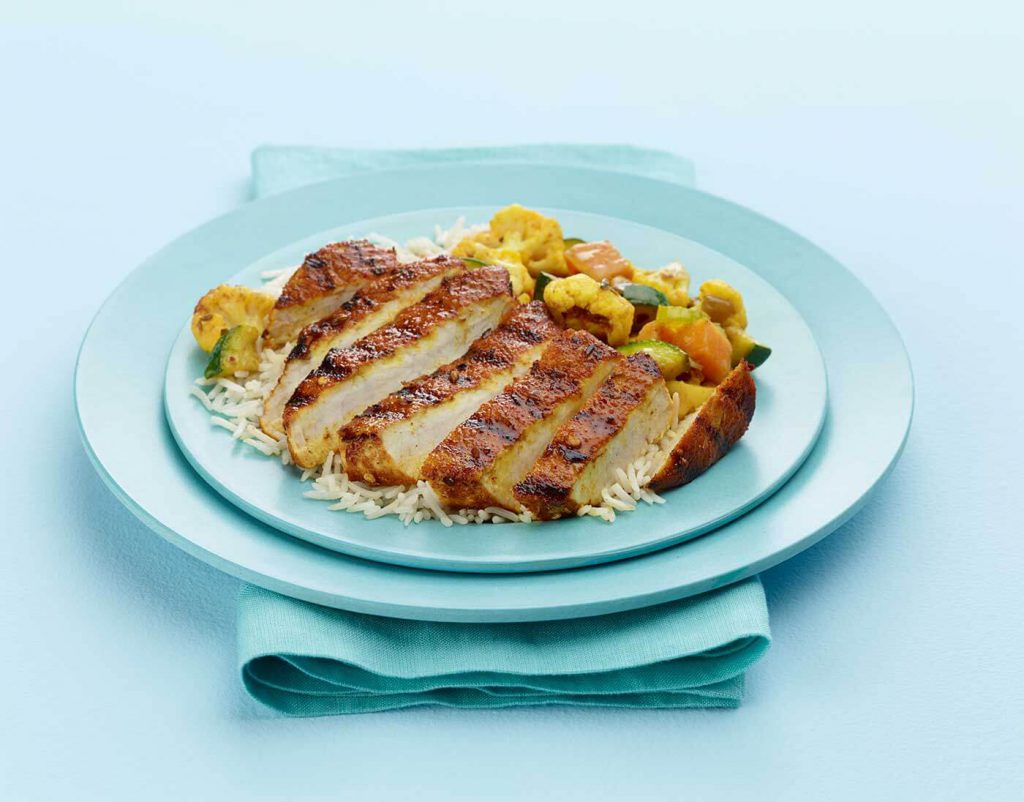 Ingredients
Turkey Garam Masala
Roasted Curried Cauliflower and Brussels Sprouts
Directions
1.

Combine the Garam Masala with the blended oil.

2.

Apply the rub to the filet and heat in a pan on low heat or place on a grill and cook thoroughly.

3.

Remove the filet from the pan or grill and glaze with the habanero honey.

4.

Serve with the Roasted Curried Cauliflower and Brussels Sprouts and rice.
Ingredients
Garam Masala
Yield: 8–10 servings
Red chilies, small, dried
Cinnamon sticks, broken into pieces
Directions
1.

Heat a heavy-duty cast-iron skillet over medium heat. Add the spices, except for the ginger, nutmeg and turmeric.

2.

Stir the spices frequently in the pan and toast until they become fragrant, about 3–4 minutes.

3.

Remove the pan from the heat and cool for 5–10 minutes.

4.

Remove the cardamom pods from the spices and remove the seeds. Discard the skins. Place the seeds with the other toasted spices.

5.

Place the toasted spices in a spice grinder with the ginger, nutmeg and turmeric. Grind to a fine mix.

6.

Place the spices in an airtight container and store in a cool place.
Ingredients
Roasted Curried Cauliflower And Brussels Sprouts
Yield: 8–10 servings
Brussels sprouts, cleaned, cut in half lengthwise
Black pepper, freshly ground
Directions
1.

Toss the cauliflower, Brussels sprouts and oil in a stainless steel bowl. Coat well.

2.

Sprinkle with the curry powder, salt and pepper. Toss and blend well.

3.

Place the seasoned vegetables onto a foil-lined half-size sheet pan.

4.

Place the tray of vegetables in a preheated 400°F oven for approximately 20–25 minutes. Stir after 15 minutes.

5.

Roast the vegetables to a golden brown.

6.

Remove the pan from the oven and blend in the chopped cilantro.

7.

Serve.
Get All Things Butterball Delivered to Your Inbox
Find Your Broker