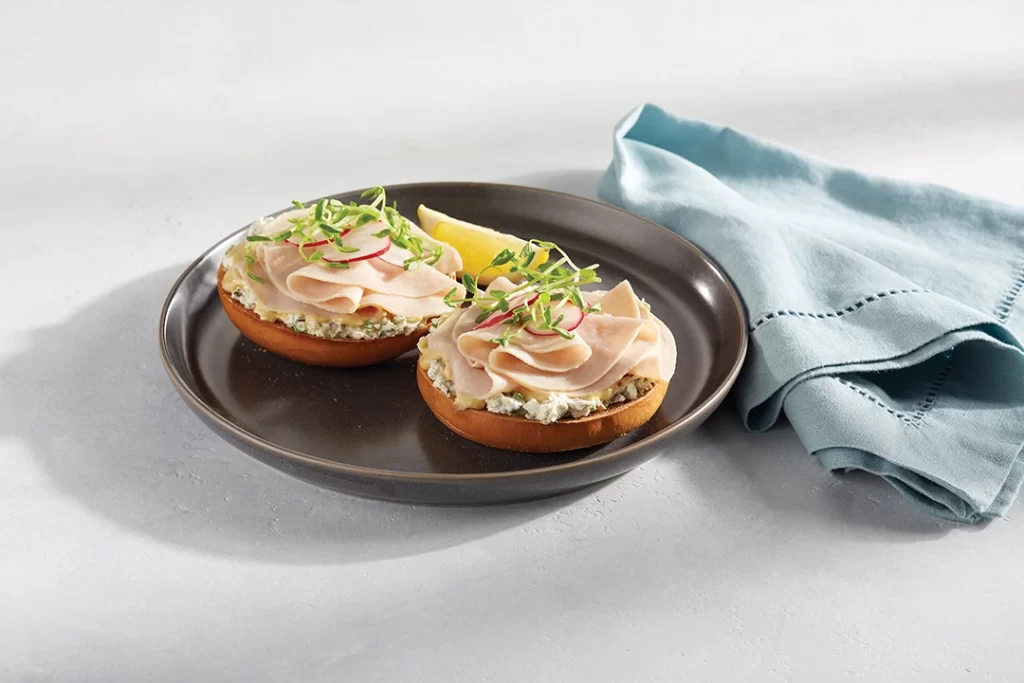 Turkey-Lemony-Hummus Bagel
Easily elevate breakfast or lunch with a unique bagel offering featuring Mediterranean ingredients. A smear of hummus meets a savory cream cheese spread combining olives, scallions and capers. Serve each bagel half open-faced and top with a nest of fresh greens.
Ingredients
mixed olives, well-drained
scallions, trimmed and chopped
microgreens, peashoots or watercress
Freshly ground black pepper
Zest of one large lemon, divided
Radishes and cucumber slices, for serving, optional
Directions
Make the cream cheese spread:

1.

Whirl the cream cheese in a food processor until smooth. Add the olives, scallions, capers and pepper. Pulse until smooth enough to spread.

Make the hummus:

2.

Blend together the hummus, half the lemon zest and the lemon juice.

3.

To assemble, divide the cream cheese among the bagel halves and spread it evenly. Divide the hummus among each bagel half and spread it evenly as well.

4.

Layer each bagel half with three turkey slices and then sprinkle with the remaining lemon zest. Top each with a small handful of greens – microgreens, peashoots or watercress. Serve with sliced radishes and cucumbers alongside, if desired.
Get All Things Butterball Delivered to Your Inbox
Find Your Broker