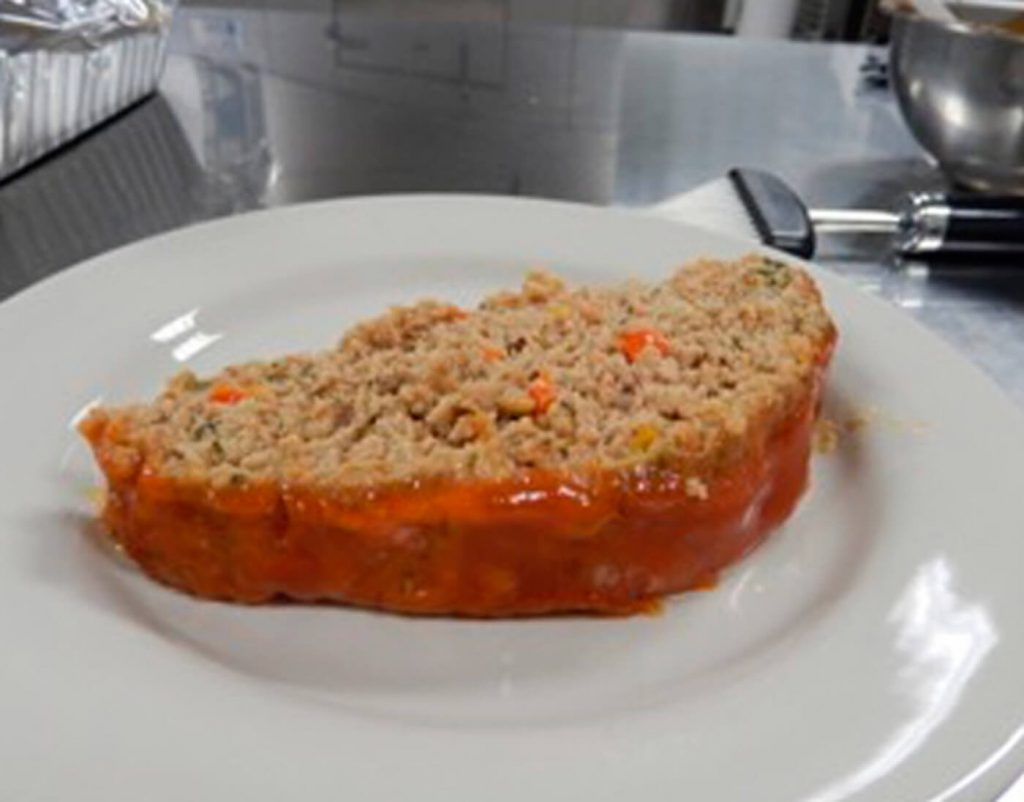 Ingredients
Turkey Meatloaf
Yield: 8–9 slices
Red or green peppers, small diced
Whole wheat bread crumbs (day-old bread that is chopped fine in a food processor)
Freshly ground black pepper
Fresh sage, chopped (packed tightly in the measuring spoon)
Fresh thyme leaves, chopped (packed tightly in the measuring spoon)
Sweet & Sour Glaze, as needed
Directions
1.

Preheat the oven to 350℉.

2.

Heat the oil in a sauté pan over medium-high heat. Add the garlic and sauté for 10–15 seconds (DO NOT BURN), then immediately add the onions and peppers and sauté for approximately 4 minutes. Remove from the heat and cool to room temperature as quickly as possible (hot vegetables may be placed on a tray or in a bowl and set into the freezer to cool).

3.

In a large mixing bowl, combine the bread crumbs, salt, pepper, fresh herbs, broth, Worcestershire sauce and eggs. Blend well, and then add the cooled vegetables.

4.

Add the ground turkey and blend well.

5.

On a rimmed baking sheet, form a loaf approximately 9 inches long x 4 inches wide x 4 inches high.

6.

Bake for 30 minutes, then spread the Sweet & Sour Glaze over the meatloaf and bake for an additional 30 minutes or so, until the internal temperature reaches 160º–165℉.

7.

The meatloaf must rest for 15 minutes before slicing.
Ingredients
Sweet & Sour Glaze
Directions
1.

Combine all the ingredients in a small bowl and blend well.

2.

Apply the glaze as directed.
Get All Things Butterball Delivered to Your Inbox
Find Your Broker