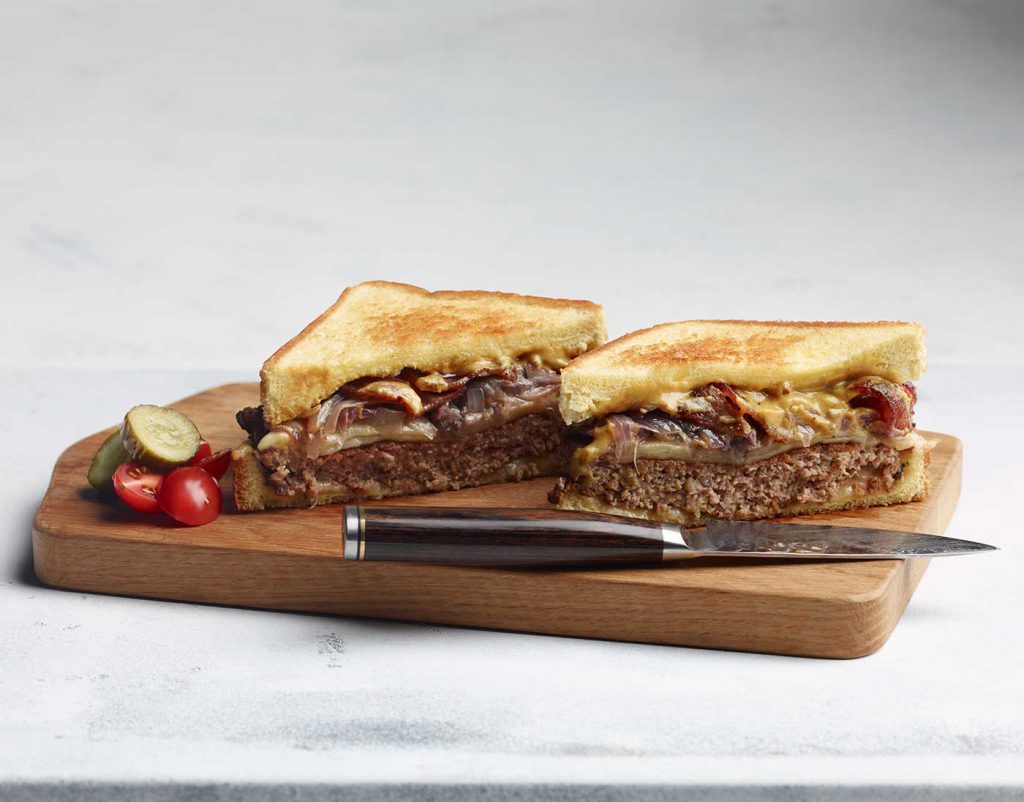 Turkey Patty Melt
An indulgent diner favorite gets a makeover. Ground turkey stars in this comforting burger topped with honey-bourbon peppered bacon, beer-basted onions and ooey-gooey Muenster cheese. Serve with a side of French fries for a craveable lunch or dinner offering.
Ingredients
Turkey Patty Melt
Muenster cheese, (½-oz. slices)
Honey-bourbon peppered candied bacon
Directions
1.

Spread the soft butter on one side of each slice of Texas toast. Place the toast, buttered side down, onto a clean work surface.

2.

Designate one slice of the buttered bread as the bottom. Spread the sweet hot mustard on the non-buttered side.

3.

Evenly arrange 2 slices of the Muenster cheese over the mustard.

4.

On the other slice of Texas toast, designated as the top, place 1 slice of Muenster cheese on the non-buttered side.

5.

Grill the turkey burger to an internal temperature of 165ºF.

6.

While the turkey burger is grilling, place both slices of the Texas toast, buttered sides down, on the grill. Grill to a golden brown. The cheese will start to melt.

7.

While the toast slices and burger are grilling, reheat the beer-basted onions on the grill. When they're hot, spread them evenly over the surface of the properly cooked turkey burger.

8.

Place the cooked turkey burger with the beer-basted onions on the bottom slice of the grilled bread.

9.

Arrange the bacon over the beer-basted onions.

10.

Top the onions and bacon with the top slice of grilled toast.

11.

Remove the sandwich from the cooking surface. Place it on the cutting board and cut in half diagonally.

12.

Serve with half of a sour pickle.
Get All Things Butterball Delivered to Your Inbox
Find Your Broker