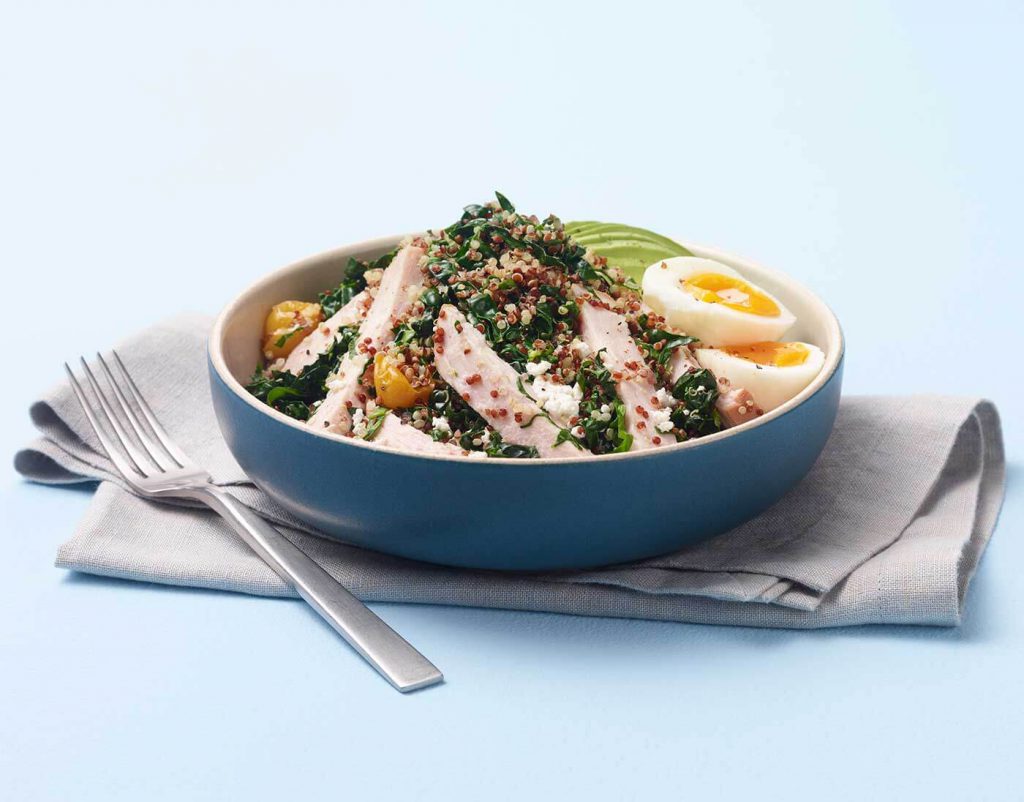 Turkey Quinoa Breakfast Bowl
Honey maple turkey breast and red and white quinoa deliver extra protein to make a powerhouse bowl. This nutrient-rich offering combines easy portability and endless customization while meeting demand for healthy options.
Ingredients
Turkey Quinoa Breakfast Bowl
Red and white quinoa, cooked
Ripe avocado, peeled, sliced
Directions
1.

Heat the olive oil in a heavy-duty skillet over medium heat, then add the kale and spinach.

2.

Sauté the greens until they're wilted (but still very green) and then add the quinoa. Stir/sauté until well blended and hot.

3.

Arrange the quinoa and greens in a bowl, and top with the remaining ingredients. Fan out the sliced avocado near the rim of the bowl, toward the center. Cluster the Blistered Tomatoes and Soft-Cooked Egg near the sliced avocado. Place the crumbled goat cheese in the center. Arrange the lightly grilled julienned turkey in a mound in the center.

Note.

When preparing the quinoa, rinse it in cold water before cooking. Sub the water with turkey or poultry broth.
Ingredients
Blistered Tomatoes
Directions
1.

Heat the olive oil in a small heavy-duty sauté pan over medium-high heat.

2.

Add the tomatoes, stirring 2–3 times, until their skins blister. Do not overcook—the tomatoes will collapse.

3.

Add salt and pepper, to taste.
Ingredients
Soft-Cooked Egg
Directions
1.

In a saucepan, bring water to a boil.

2.

Carefully lower the egg into the boiling water, then reduce the heat to a simmer and cook for 6 minutes.

3.

Once the egg is cooked, shock it in ice water.

4.

Peel the egg when it's cold.

5.

Reheat the egg in simmering water, then cut it in half.
Get All Things Butterball Delivered to Your Inbox
Find Your Broker