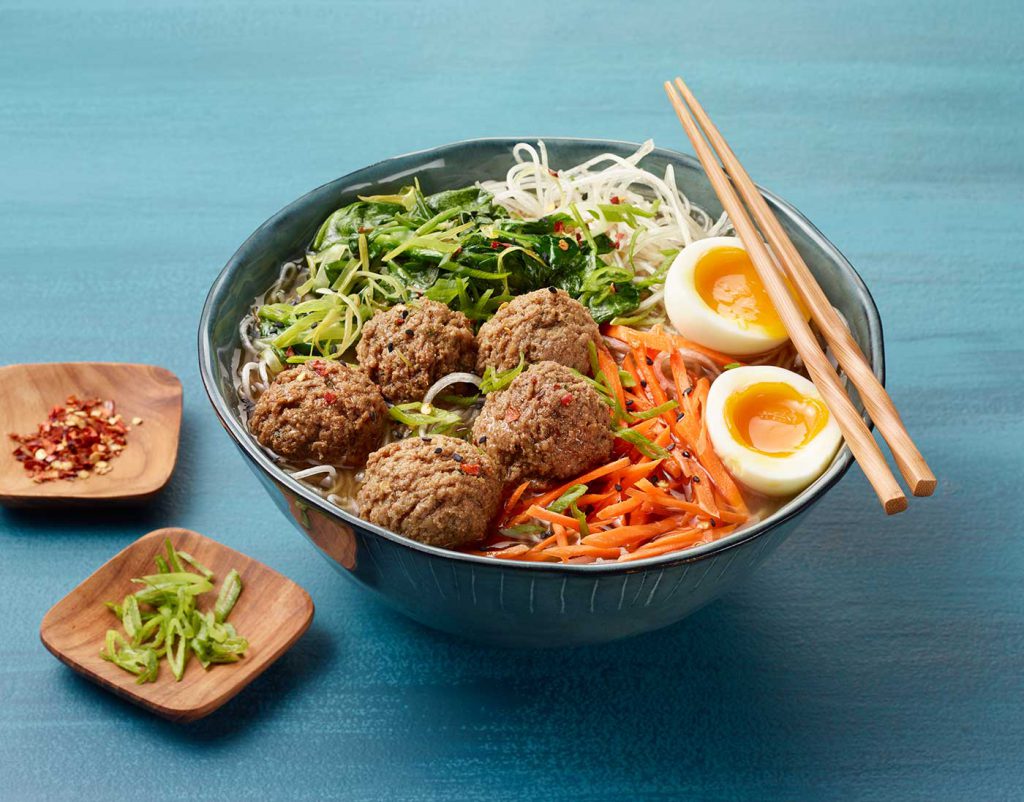 Turkey Ramen
This turkey ramen bowl is an easy way to satisfy appetites for bold flavors. Served in a rich, aromatic turkey broth with a spicy kick of gochujang, it makes for a tasty entrée on any menu or a perfectly portable delivery option.
Ingredients
Turkey Ramen
Yield: 4 bowls
Leek, white part only, thinly sliced
Fresh spinach, stems removed
Carrots, matchstick size, shredded
Egg, hard-cooked for 10 minutes, until yolks are soft
Green onions, thinly sliced
Directions
1.

Place the turkey meatballs into a saucepan and cover with the Turkey Ramen Broth. Bring to a simmer and heat to an internal temperature of 160°F.

2.

Sauté the leeks and spinach in sesame oil for 30 seconds.

3.

Divide the Cellophane Noodles equally among 4 bowls.

4.

Divide the mound of sautéed leeks and spinach on the noodles at the 2 o'clock position.

5.

Divide the matchstick carrots equally into 4 portions and mound at the 4 o'clock position.

6.

Arrange each hard-cooked egg (cut in half) at the 6 o'clock position.

7.

Arrange 5 turkey meatballs over the noodles on the left side of each bowl.

8.

Adjust the seasoning of the hot Turkey Ramen Broth with soy sauce. Bring to a boil.

9.

Pour equal amounts of broth over each bowl of noodles.

10.

Sprinkle equally with sesame seeds, red chili flakes and green onions.
Ingredients
Turkey Ramen Broth
Yield: 2 quarts 
Carrots, washed, roughly chopped
Celery, washed, roughly chopped
Sweet onions, with skin, washed, roughly chopped
Hondashi (smoked, dried bonito fish)
Directions
1.

In a 4- to 6-quart saucepan, heat the oil over medium-high heat. Sauté the carrots, celery, onions, garlic and ginger to a golden brown.

2.

Add the turkey broth and the remaining ingredients. Bring to a boil, simmer for 45 minutes and strain the broth.

3.

Store the broth in a container with a lid. Date and refrigerate the container.
Ingredients
Cellophane Noodles
Yield: 8 oz.
Water, boiled, lightly salted
Directions
1.

Remove the Cellophane Noodles from the packaging and place in a bowl large enough to hold the Cellophane Noodles and 1 quart of boiling water.

2.

Pour the boiling water over the noodles. Let stand for 10 minutes, then drain well.

3.

When the noodles are totally drained, place them into a bowl and toss with the sesame oil. Blend well.
Get All Things Butterball Delivered to Your Inbox
Find Your Broker