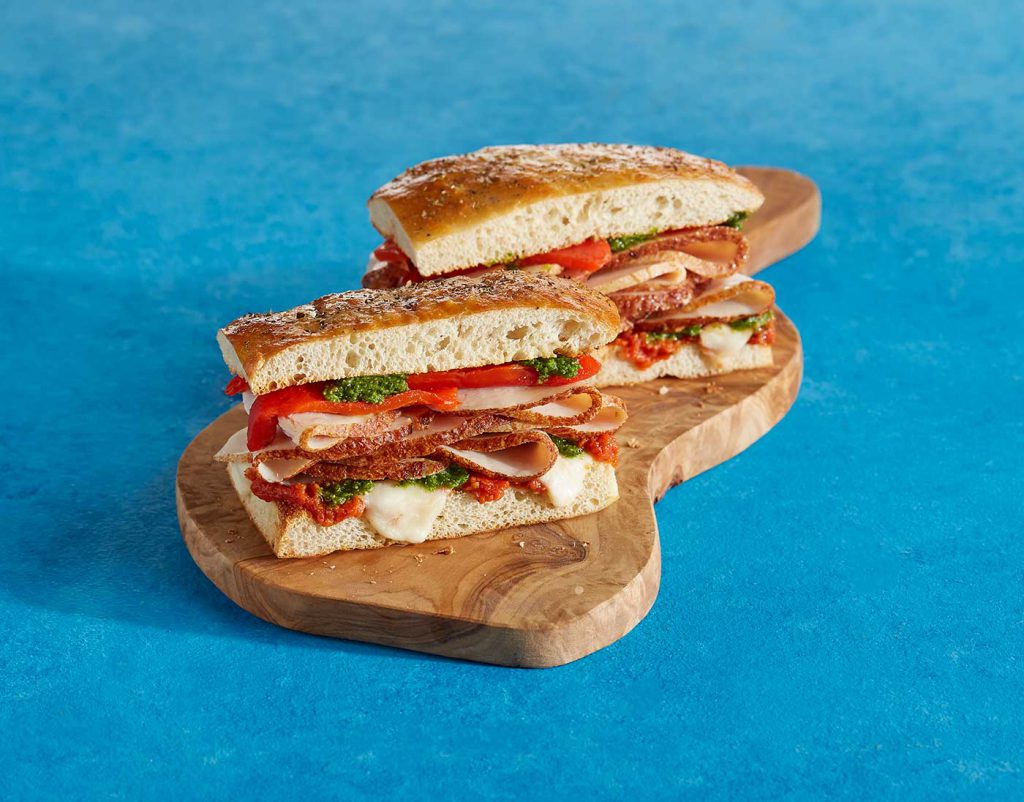 Turkey Sandwich Italiano
Dazzle sandwich lovers with a turkey Parmesan featuring warm marinara sauce and melted cheese. Thanks to the nut-free kale pesto, this delightful dish is also allergy friendly. Pair with a Caesar salad and a glass of vino.
Ingredients
Turkey Sandwich Italiano
Herbed focaccia, 5–6 inches square, ¾ inch thick
Sauce Pizzaiolo or prepared marinara sauce, warmed
Nut-Free Kale Pesto or prepared pesto
Red bell pepper, 4–5 inches square, roasted
Balsamic Glaze (optional)
Directions
1.

On one slice of focaccia, place the sauce, mozzarella, Parmesan and pesto.

2.

On the other slice, spread additional pesto, as desired.

3.

On a broiler pan, place both slices of focaccia (cut sides up), the turkey and the pepper. Broil briefly, until the cheese is melted and the turkey and pepper are warmed.

4.

Place the turkey and pepper on the marinara- and pesto-topped focaccia.

5.

If desired, add the Balsamic Glaze to the pesto-topped focaccia, and place the focaccia on top of the sandwich.

6.

Serve.
Ingredients
Nut-free Kale Pesto
Yield: ⅔ cup
Kale, stems removed and roughly chopped
Salt, plus more as needed
Directions
1.

Combine the kale, Parmesan, garlic and salt in a food processor.

2.

Pulse 5 times.

3.

With the motor running, drizzle in the oil.

4.

Season to taste with salt and pepper.
Ingredients
Sauce Pizzaiolo
Garlic cloves, minced or pressed
Fresh sage leaves, chopped
Italian plum tomatoes, crushed with juice (San Marzano)
Fresh Italian parsley, chopped
Fresh basil, chiffonade (packed tightly in a cup)
Directions
1.

In a sauté pan, heat the oil over medium-high heat. Sauté the garlic until the aroma fills the air.

2.

Add the bay leaves and fresh sage. Sauté for 15 seconds.

3.

Add the tomatoes, sugar, salt and pepper. Bring to a boil and simmer for 10–15 minutes.

4.

Stir in the chopped parsley and chiffonade of basil.

5.

Simmer for another 30 minutes, then remove the bay leaves.

6.

To store, pour the sauce into a container, cover, label and refrigerate.
Ingredients
Balsamic Glaze
Yield: ¼ cup
Directions
1.

Combine the vinegar and sugar in a small pan.

2.

Cook over medium heat until boiling, then reduce the heat slightly and cook for about 12 minutes, until the glaze is thickened and syrupy.

3.

Cool before using.
Get All Things Butterball Delivered to Your Inbox
Find Your Broker