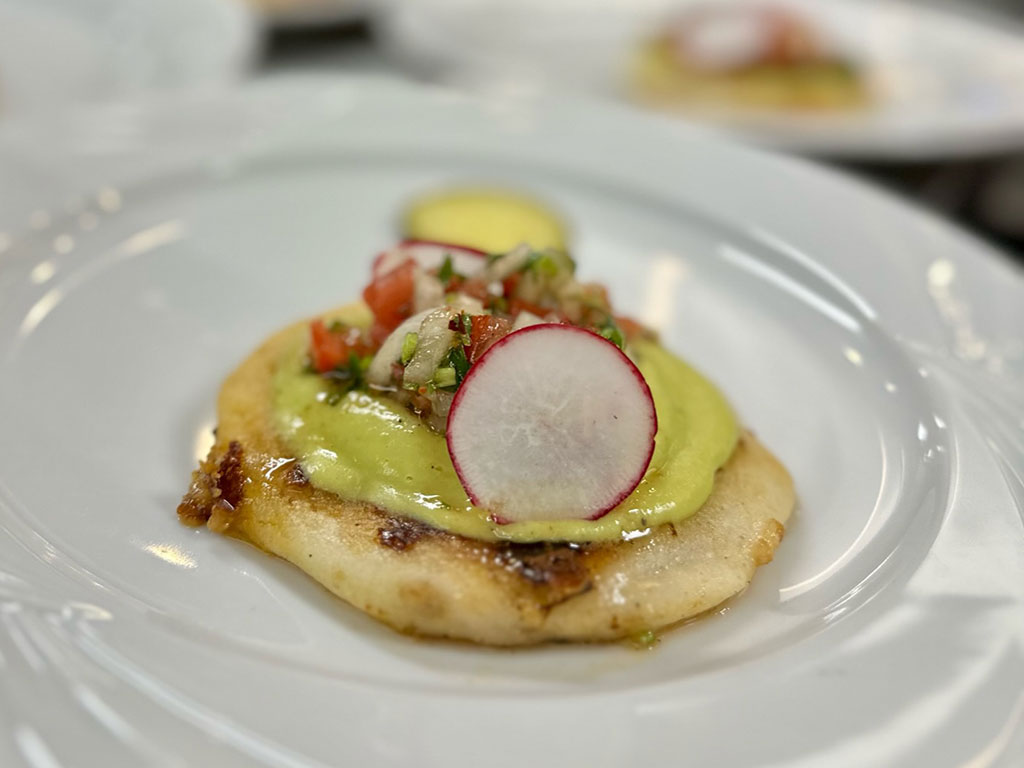 Turkey stuffed pupusa, avocado crema and pebre sauce

See More
In Chef Andres Prüsing's spin on the iconic Salvadorian dish, corn cakes are stuffed with a flavorful blend of ground turkey, chilies and cheese, then spread with vibrant avocado crema and fresh pebre sauce.
Ingredients
For the filling
Dry guajillo soaked seeded
Dry ancho chilies soaked seeded
Dry árbol chilli soaked and seeded
Roasted onion medium sauce
Garlic head roasted peeled
Directions
1.

Blend all the ingredients except ground beef and cheese, season to taste.

2.

On a separate pot cook ground beef season salt pepper and add mixture.

3.

Cool down and mix with cheese. Reserve.
Directions
1.

Mix all ingredients until you have a nice wet dough.

2.

Grab a little ball of nada, make a hole filled with turkey, close it, and start forming the de pupusa by hitting all the side forming a tortilla shape dough.

3.

Cook in an oiled flat top 2-3 minutes per side medium high heat, flip only once.
Ingredients
Thanksgiving meatballs
Directions
1.

In a good processor, blend all vegetables until they become a grated texture.

2.

Mix all ingredients, and form 1-2 oz meatballs.

3.

Accompanied with bbq sauce mixed with some guajillo pure, butter and cook until combined.
Get All Things Butterball Delivered to Your Inbox
Find Your Broker