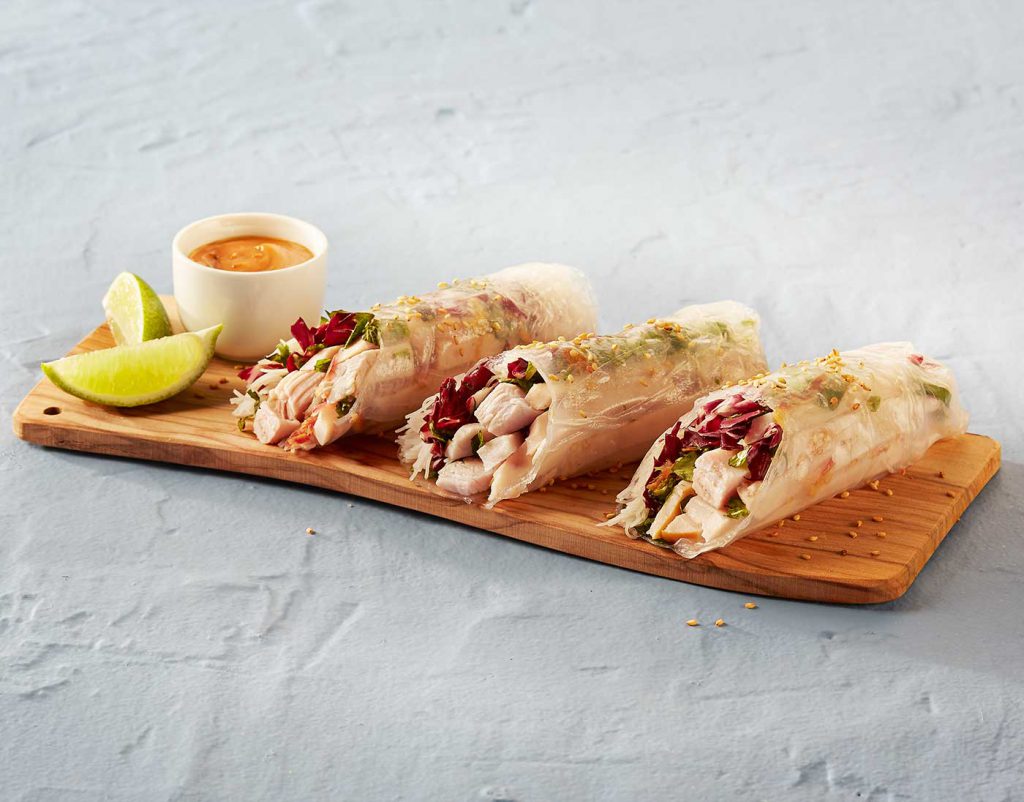 Turkey Summer Rolls
Lean into light and bright flavors. This gluten-free offering seamlessly combines the health appeal and zesty Asian influence that diners seek. Served with a smooth sambal peanut dipping sauce, it makes a refreshing and eye-catching side or appetizer. Alternatively, pair these rolls with a sweet chili sauce for a spicy touch.
Ingredients
Turkey Summer Roll With Sambal Peanut Dipping Sauce
Yield: 4 servings
Cooked vermicelli noodles (1 oz. dry = 1 cup cooked)
Sambal Peanut Sauce, for dipping
Directions
1.

Make peanut sauce; set aside.

2.

Julienne smoked turkey breast; drizzle with sesame oil and sesame seeds.

3.

Cook the rice noodles according to package directions; set aside.

4.

Place wrappers into warm water until soft and pliable (about 10-15 seconds). Remove wrappers to flat surface and pat dry.

5.

Lay seasoned turkey in the center of the wrap. On top of the turkey, place the carrots, herbs, noodles and radicchio.

6.

Fold over the bottom and sides.

7.

Roll wrapper upwards to form a neat roll shape.

8.

Serve with dipping sauce.
Ingredients
Sambal Peanut Dipping Sauce
Yield: 1 ⅓ cups
Peanuts, oven toasted, cooled and chopped
Directions
1.

Place all ingredients in food processor except the peanuts. Process until smooth. Transfer to a bowl and fold in chopped peanuts. Thin with a bit of water or lime juice as desired.
Get All Things Butterball Delivered to Your Inbox
Find Your Broker