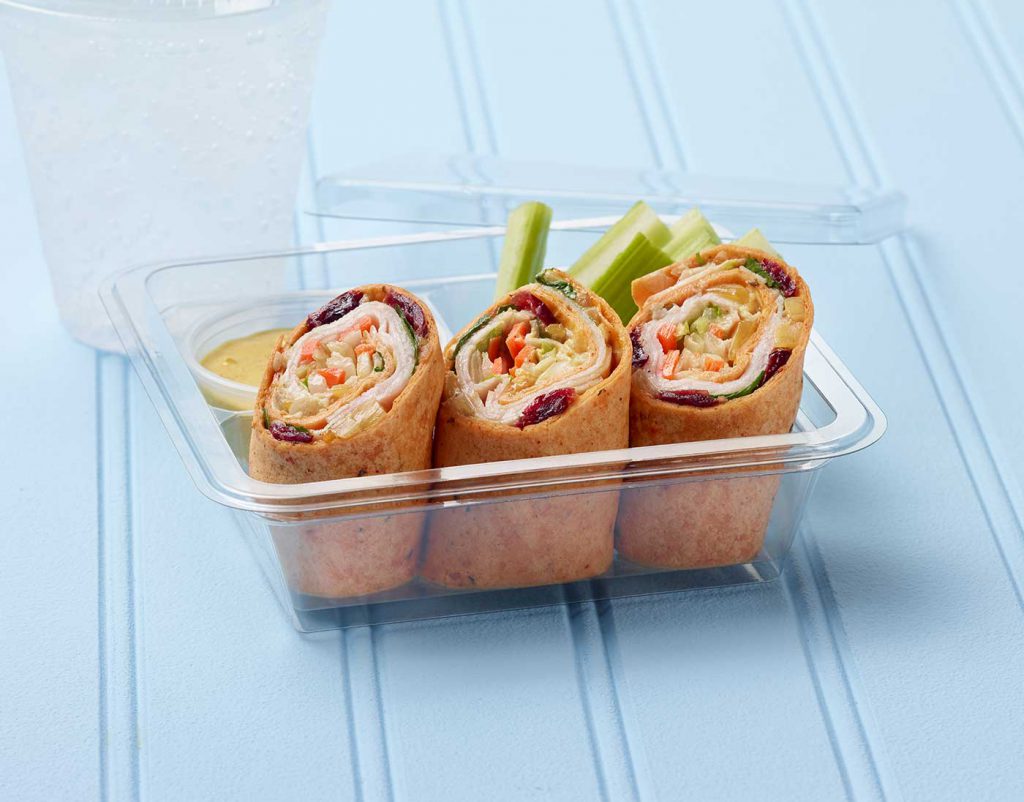 Turkey Wrap with Mango Chutney
Ingredients
Turkey Wrap With Mango Chutney
Sweet Onion Curried Mayonnaise
Chipotle flour tortilla, 10 inches in diameter
Directions
1.

Spread the Sweet Onion Curried Mayonnaise over the surface of the tortilla, leaving half an inch from the edge all the way around.

2.

Arrange the turkey in the center of the tortilla, half an inch from the edge.

3.

Top the turkey with Mango Chutney.

4.

Spread the shredded lettuce and shredded carrots over the chutney.

5.

Fold the bottom portion of the tortilla over the filling and fold the sides of the tortilla about 1 inch on each side. Roll up to finish wrapping the tortilla, which must be a tight cylindrical shape.

6.

Cut the wrap into 3 equal pieces.

7.

Arrange the wrap in a snack box with cubed cheese and additional Mango Chutney for dipping.
Ingredients
Sweet Onion Curried Mayonnaise
Yield: 1 ½ cups
Vidalia onion, ¼-inch dice
Fresh ginger, peeled, minced
Heavy-duty mayonnaise, cold
Directions
1.

Heat the canola oil in a 10-inch sauté pan.

2.

Add the vidalia onions, garlic and ginger to the pan and sauté them to a golden brown. Add the curry powder and dry mustard, mix well and cook for 30 seconds. Do not burn. Remove the pan from the heat and cool the onion mixture to room temperature or cooler.

3.

Combine the cooled onion mixture, lime juice, rice vinegar and salt into a food processor. Blend well.

4.

Place the mixture into a stainless steel mixing bowl. Refrigerate to cool.

5.

When the mixture is cooled, blend in the chilled mayonnaise and adjust the salt if needed.

6.

Place the curried mayonnaise into a storage container with a lid. Refrigerate for 1 hour before use.
Ingredients
Mango Chutney
Yield: 6 cups
Vidalia onion, diced small
Fresh mango, peeled, seed removed, ¼-inch dice
Fresh or frozen mango, chopped
Fresh ginger, peeled, grated
Fresh jalapeños, finely chopped
Directions
1.

Sauté the garlic and onions in the peanut oil for 2–3 minutes in a heavy-duty 2-quart stainless steel or enamel-coated saucepan.

2.

Add the diced mango and sauté the mixture for 2 minutes.

3.

Add the remaining ingredients and bring them to a boil, then simmer until the liquid reduces by 90%, stirring occasionally. The chutney will thicken.

4.

Pour the chutney into a storage container and cover it with a lid. The flavors will blend and develop.
Get All Things Butterball Delivered to Your Inbox
Find Your Broker