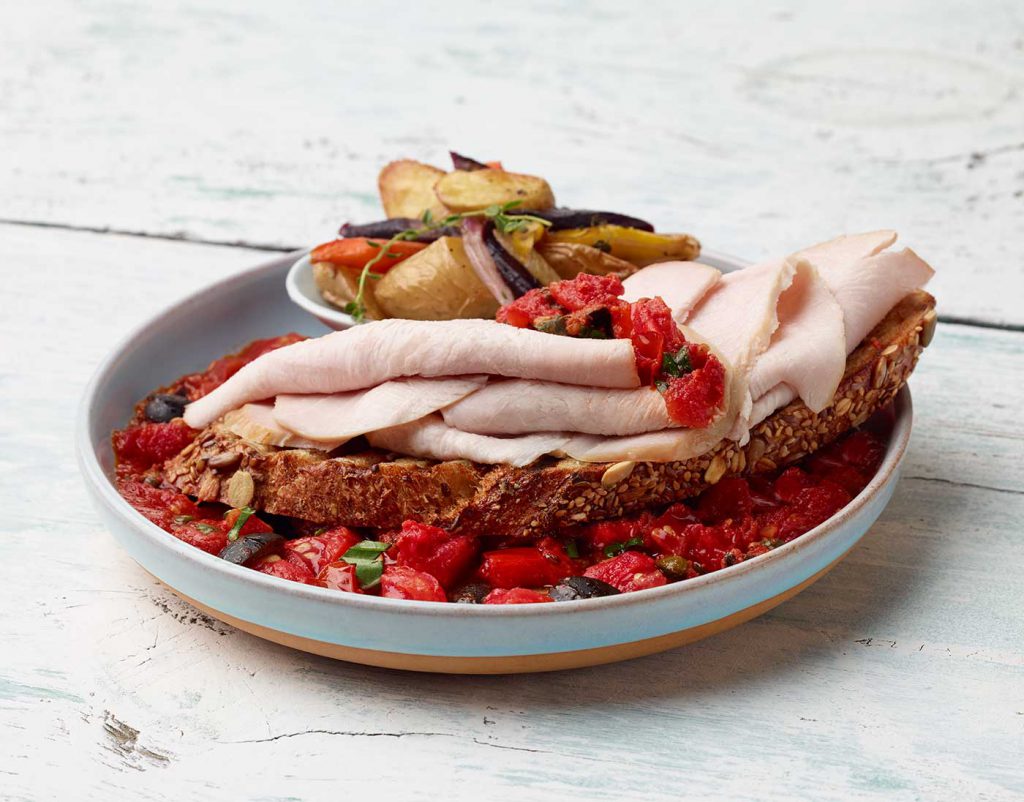 Tuscan Roast Turkey
A spicy basil pomodoro crudo sauce complements the richness of roasted turkey, creating a harmony of flavors and a unique presentation. Serve with a dry Riesling for a delicious and filling lunch or dinner entrée.
Ingredients
Tuscan Roast Turkey
Bias-cut French bread (6 to 7 inches long, ¾ to 1 inch thick), brushed with garlic oil
Roasted Rainbow Carrots and Fingerling Potatoes
Directions
1.

On a grill, toast the bias-cut French bread until it's golden brown on each side. Arrange the bread on a plate.

2.

Top the grilled French bread with the warm turkey.

3.

Fold the fresh basil pesto into the Pomodoro Crudo Sauce and diagonally pour the sauce over the turkey, then sprinkle ¾ ounce of the ricotta salata over the sauce.

4.

Arrange the Roasted Rainbow Carrots and Fingerling Potatoes neatly on the plate.

5.

Drizzle with the balsamic glaze and garnish with remaining ricotta salata.
Ingredients
Pomodoro Crudo Sauce
Yield: 6 oz.
Anchovies, salted, rinsed, finely chopped
Tomatoes, large beefsteak type (½- to ¾-inch diced)
Salt and black pepper, to taste
Directions
1.

Combine all the ingredients and place them in a sauté pan over low heat until warm. Serve with Tuscan Roast Turkey.
Ingredients
Roasted Rainbow Carrots and Fingerling Potatoes
Yield: 5 ½ cups
Fingerling potatoes, 1-inch diced
Onions, peeled and cut into quarters
Branches of fresh thyme leaves
Directions
1.

Combine the potatoes and vegetables in a large stainless steel bowl and sprinkle with the seasonings. Toss with a rubber spatula to blend.

2.

Drizzle the canola oil into the bowl and blend well.

3.

In a 375°F oven, heat a cast iron skillet or roasting pan. When the pan is hot, add the bowl's contents and immediately return the pan to the hot oven.

4.

Roast for about 45 minutes, until the potatoes are cooked, firm and golden brown.
Get All Things Butterball Delivered to Your Inbox
Find Your Broker