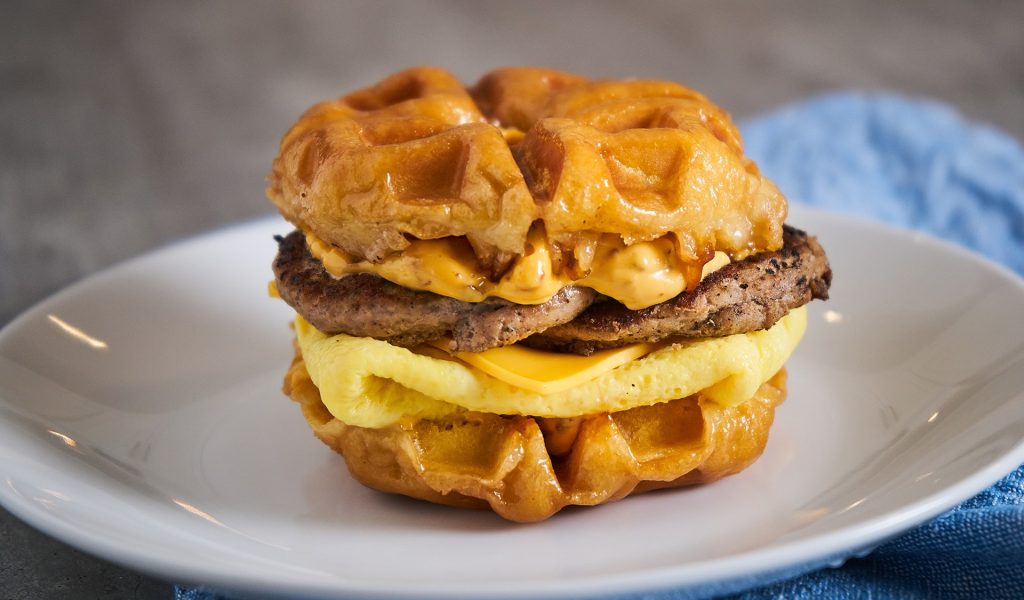 Waffle Breakfast Sandwich
A classic glazed donut pressed and toasted into a waffle with egg, turkey sausage breakfast patties, and American cheese for a fun and whimsical take on a classic breakfast. This recipe was developed by the Waypoint Culinary Team.
Directions
Folded Egg

1.

Heat oil in a small nonstick pan over medium-high heat.

2.

Beat an egg in a bowl and season.

3.

Pour the egg into the pan and allow to cook until it starts to set.

4.

Pull in the edges to allow all parts to cook.

5.

Fold the egg into quarters.
Ingredients
Chili Crunch Aioli
Directions
Chili Crunch Aioli

1.

Mix the ingredients in a bowl together thoroughly.

2.

Label, date, and store for use.
Directions
1.

Cut the glazed donut in half.

2.

Place one of the donut halves into a pre-heated and sprayed waffle iron on medium-high heat. Cook for about 2 minutes or until the waffle is golden brown. Repeat with the other half.

3.

Cook turkey sausage to an internal temperature of 165°F.

4.

To assemble, spread both halves of the donuts with 1 tablespoon of the Chili Crisp Aioli.

5.

Place the folded egg, cheese, and turkey sausage patties on top.

6.

Place the other donut half on top and serve.
Get All Things Butterball Delivered to Your Inbox
Find Your Broker