Accommodating Outdoor Seating in Cold Weather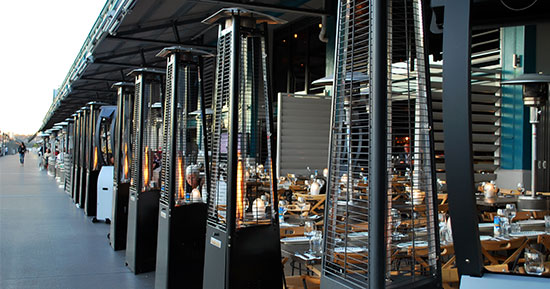 When restaurants reopened during the summer, many operations did so under the condition of outdoor dining. In cities such as New York, the government banned indoor dining, and moving outside helped patrons feel more comfortable eating on premise after months of sheltering in place. As temperatures dip, operators whose businesses depend on al fresco service must find ways to make it feasible in the fall and winter.
Here are a few ways operators can adapt their outdoor seating in the colder months:
Install heaters. Commercial heaters provide warmth throughout the space, while positioning standing heaters by tables can keep customers extra comfortable. Mounting heaters on the walls and ceiling lets heat blast from all directions, ensuring there aren't any drafty areas in the patio.
Hang vinyl curtains. An enclosure will help to keep the warmth from escaping. Hang these curtains on three sides, allowing the heat to stay in but also letting fresh air circulate. Transparent vinyl curtains help retain heat, and they also don't obscure patrons' views.
Update furniture. Make sure outdoor furniture consists of materials that won't feel cold to the touch. This means features like cushioned chairs to provide extra insulation. Adding tall plants, such as shrubs, to the patio area can shield diners from the wind while promoting social distancing between tables.
Offer blankets. Hand out blankets to patrons and wash them between each use. These amenities can add a relaxed and homey feel while ensuring that customers won't be too cold to enjoy their meal.
Light a fire. An outdoor fireplace can bring a rustic feel to an establishment. In addition to heat, a crackling fire provides sound and light to add ambiance and heighten the level of coziness.
How are you adjusting your outdoor space for the colder months? Tell us about it on Facebook or LinkedIn. If you're interested in more foodservice strategies, take a look at our Tips page.
SOURCES
Lalley, Heather. What happens to outdoor dining in fall and winter?, Restaurant Business, August 2020.
Potts, Christine. Make your restaurant's patio a winter dining destination, WebstaurantStore Blog, September 2020.