Better Breakfasts Are Packed with Protein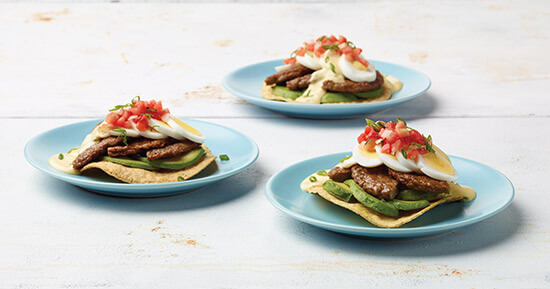 Consumers' views on health and wellness are shifting. As more and more Americans commit to active lifestyles and exercise routines, they're looking for food options that keep them energized throughout the day. You can help your diners fuel their busy days by offering a wider variety of protein-rich meals, especially at breakfast.
High-protein foods are key in improving vitality and wellbeing. Many studies have shown the advantages of consuming high-protein foods instead of high-carb options at breakfast, and consumers are recognizing the benefits. According to the International Food Information Council Foundation, nearly 60% of Americans are making a conscious effort to incorporate more protein into their diets.
Give your patrons an energy boost for breakfast by offering lean proteins, like turkey. The classic American breakfast consists of eggs with another protein-rich side, like bacon, sausage or ham. Offer a twist on the tradition by replacing high-fat beef and pork with turkey breakfast meats—they're quickly becoming popular a.m. options. Technomic reports that 24% of consumers increased their turkey consumption at breakfast last year. Throughout the past four years, breakfast menu penetration of turkey bacon increased by 53%, and turkey sausage increased by 39%.
While you can easily offer turkey breakfast meats as side items or traditional breakfast meat replacements, there are many creative ways to add all kinds of turkey products to your morning lineup. Try these ideas for inspiration:
Turkey Pot Roast for Breakfast—This hearty meal is sure to keep patrons fuller longer. Plus, it includes a variety of veggies for an added healthy bonus.
Explore all of our products and breakfast recipes to find inspiration for your new, protein-packed morning menu.
SOURCES
Protein: It's Good for Us, We Need It, We Want It, American Egg Board, 2014.
Daypart-Blurring Proteins, American Egg Board, 2014.
Leaning Toward Leaner Proteins, American Egg Board, 2014