Curating a Unique Space: Selecting the Right Furniture for your Operation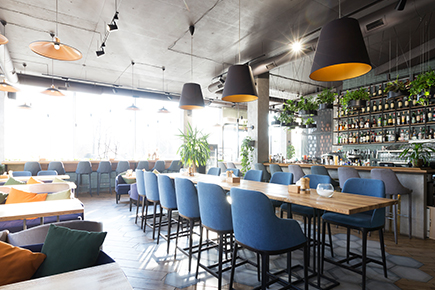 For any restaurant, your dining room is just as important as your kitchen. Guests need to feel welcomed, attended to, and most importantly, comfortable. Here's four considerations when selecting the furniture that's best for your front of house operations.
Put Function First
Your operation needs to look the part, but it's also important to put function first. Restaurant size and layout should have a lot to do with how you organize the space. Looking for pieces that are both versatile and easy to arrange will allow you the flexibility of reorganization. If your guest turnover is rapid, try choosing furniture that's comfortable for that long. For longer dining times, try upholstered furniture that allows customers to relax. However, make sure the staff can effortlessly move from kitchen to dining room, allowing for maximum efficiency.
Stay on Brand
A restaurant's brand sets it apart from other operations. And with a brand, consistency is key, and your dining room is no exception. The overall look and feel of your brand should be conveyed in your restaurant's design. This includes general atmosphere as well as your layout. It's easy to gravitate to a different look and feel based on a few pieces of furniture, but be sure that they also correlate with brand guidelines before you end up too off-course.
Make the Investment
When it comes to furniture, you have two choices. Either purchase less-durable pieces every few years or invest in higher-quality furniture that will hold up for years to come. Durability is more than just how the furniture holds up, but also the safety of patrons. Be sure to select pieces for commercial use, purchasing fewer high-quality pieces instead of lower-quality pieces can be a smart decision.
Check Your Sources
It's important to research manufacturers and distributers to help you make informed decisions and stay aware of all your options. Consider cost and lead, whether selecting a U.S. manufacturer for a shorter turnaround, or an overseas manufacturer for something more cost-friendly. Another thing to keep in mind is finishing of furniture, for manufacturers offer a multitude of finish options. This is a great way to control your restaurant's look-and-feel while balancing it with your durability and budget needs. Be sure to ask ahead of time whether different finish options are included as a standard offering or an additional cost.
Overall, furniture is an important step in getting your operation up and running. It plays a huge part in the décor of your restaurant and helps to establish a more defined vision and brand. How have you implemented these best practices into your restaurant? Share your thoughts on our Facebook or LinkedIn page. Or visit our Resource Center for more tips and trends.
Sources:
https://modernrestaurantmanagement.com/how-to-choose-the-right-furniture-for-your-restaurant/
https://www.edwardsandhill.com/blog/hotel-furniture/3-considerations-when-choosing-restaurant-furniture/
https://www.gotable.com/blog/top-tips-choosing-commercial-restaurant-tables-chairs/
https://designlike.com/5-major-tips-on-how-to-choose-the-right-restaurant-furniture/