Differentiate Your Breakfast Offerings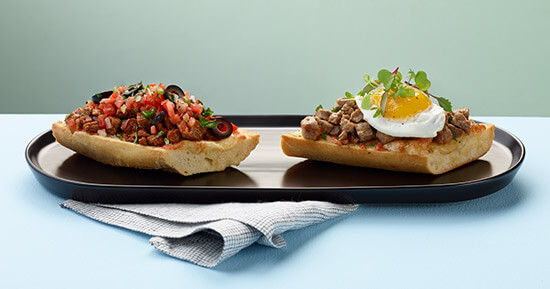 Breakfast was found at 13% more restaurants in 2011 than 2007. So while it's clear operators need to be offering breakfast to increase traffic, it's also more important than ever to differentiate your breakfast menu to make it more exciting than the restaurant's down the street. It's easy to give morning customers—who are driven by habit—a reason to return over and over again.
Keep these tips in mind while you develop breakfast menu offers that will really set you apart from the morning crowd.
Add Excitement
Take all your customers' favorite foods and make them breakfast ready. From breakfast pizza to breakfast tacos to frittatas, surprise them with your offers and give adventurous diners reasons to look forward to what you'll create next.
TRY THIS: Turkey Breakfast Tacos
Offer Variety
The staples are great on the menu, but having more to offer will put your operation on top. Serve ethnic-inspired breakfast items, unique sauces beyond syrup and invigorate old favorites like hash. Offer patrons the ability to order items small-plate style to let them try it all.
TRY THIS: Turkey Breakfast Sausage Over Potato Pancakes with Satuéed Apples
Make it an Event
Brunch is quickly becoming an American institution. Make your operation a brunch destination with specials surrounding the busy weekend breakfast times. Consider a prix-fixe menu for brunch or even stations where customers can customize. Don't forget to offer cocktails to increase check averages.
TRY THIS: Turkey Ham Stuffed Crêpe with Egg, Chives & Tomatoes
SOURCE:
2011 Mintel Breakfast Report