Digging into the Quesabirria Trend
May 2022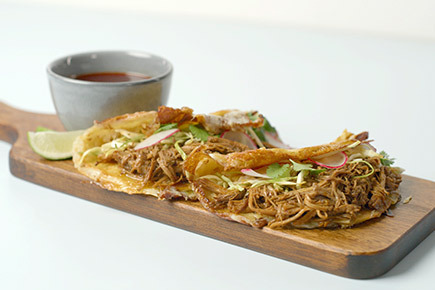 Typically made with birria-style beef, melted cheese, and a side of broth for dipping, quesabirria tacos are an indulgent Mexican dish quickly moving from Instagram feeds to more mainstream menus.
When quesabirria tacos first broke into the culinary scene, they were few and far between. Patrons traveled for miles and waited in line for hours at elusive taco trucks in California just to have a taste. Today, quesabirria is becoming more common, and chefs are already exploring twists on the traditional taco. Let's take a bite out of the trend and see what it means for the resurgence of Mexican flavors.
While the origin of quesabirria tacos in the U.S. can be traced to California, they first gained popularity in Tijuana, Mexico. This is where food truck vendors began rethinking birria, a stew traditionally made with beef or goat meat and a combination of spices and chili peppers. They served it atop tortillas and added the delicious melty cheese that led to its wild popularity today.
The trend in Tijuana made its way to Los Angeles, crept up to the Bay Area, and, thanks to Instagram, has now exploded across the nation. The cheesy, sizzling tacos, along with cups of consommé for dipping, took off on Instagram, Snapchat, and TikTok. From coast to coast, "birria" is becoming synonymous with any type of crispy taco and brothy dipping sauce pairing. The taco scene in Austin, Texas, is now ripe with twists on the quesabirria that first came to be in California. You can find the birria taco sans cheese with an addition of fresh cilantro and onions, birria enveloped in flour tortilla quesadillas, and even birria tortas with broth-soaked bread.
Quesabirria has already made its debut on campuses all over the country. Texas Christian University's dining program saw success with birria tacos paired with consommé and elotes. SUNY Broome Community College in New York served up three birria taco variations: one featuring beef, one with braised chicken, and one tofu-based vegetarian option.
Chefs are just beginning to put their own spins on quesabirria, and there's still plenty of room to explore. Now's your chance to tap into the trend and create new Mexican fusions on your menu. From using turkey as a better-for-you beef swap to adding signature sauces in place of the usual consommé, the possibilities are endless. Get inspired with our Turkey Quesabirria recipe, featuring a Colorado chile paste, seasoned turkey thigh roast, and crispy quesadillas made with corn tortillas.
Do you plan to take on the quesabirria trend? Please share your thoughts on our Facebook or LinkedIn pages. Or visit our Resource Center for more tips and trends.
SOURCES
https://www.eater.com/22215718/how-birria-tacos-conquered-america
​​https://austin.eater.com/22243046/birria-tacos-quesabirria-food-trucks-austin
https://www.food-management.com/colleges-universities/campus-chefs-dip-birria-trend