Diners are Eating to Fuel Up,
Not Fill Up
August 2023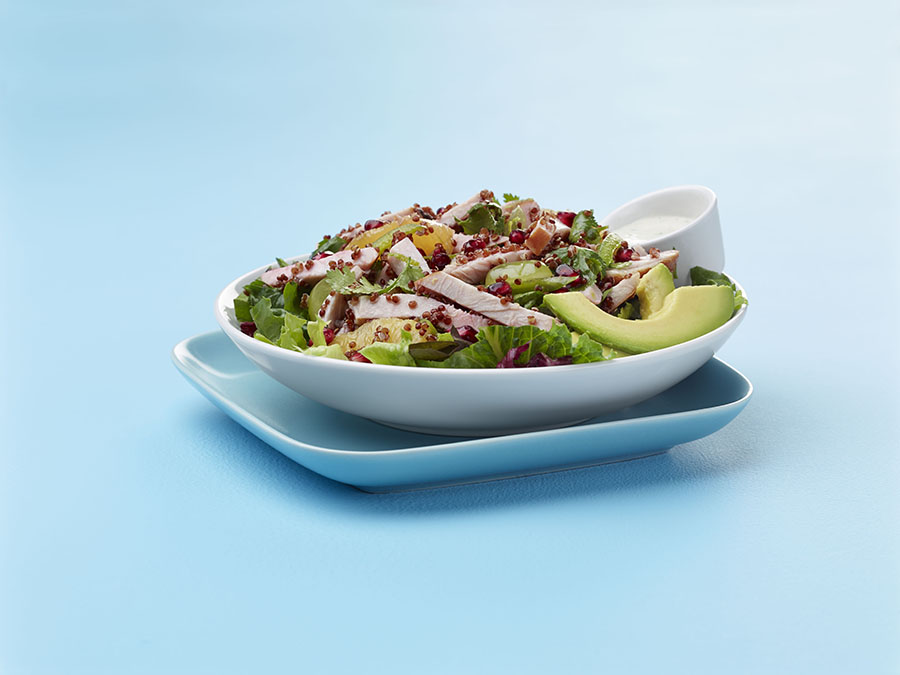 With healthy living habits trending upward, diners are more motivated than ever to seek better-for-you foods that support their overall health. More than four out of five consumers say the pandemic has changed their food habits, with over 50% saying they started cooking more at home. Today, about a quarter of consumers say they will go out of their way for healthier ingredients.
Many are looking for ingredients with functional benefits that boost brain and immune function while avoiding others that are full of preservatives. By offering menu options with more fruits, vegetables and lean protein, operators can satisfy health-motivated guests and encourage their return.
What's Inside Counts
Healthy eating means something different to everyone. Fiber and whole grains are among the most sought-after ingredients. Meanwhile, a study in Los Angeles found that over a quarter of its residents are incorporating more fruits and vegetables. A third of consumers are rethinking their protein choices and cutting down on red meat. Dairy preferences vary, too, as one in five consumers says they have reduced their consumption over the past few years.
A Standout Protein
Considering these shifts in consumer diets and preferences, offering healthier choices is more important than ever. Turkey is a delicious, protein-rich and versatile menu addition that pairs excellently with fresh fruits and vegetables to create health-forward dishes.
Better-For-You Breakfast
Offer your guests the get-up-and-go to conquer their day with a Turkey Quinoa Breakfast Bowl, featuring nutrient-dense kale and spinach, blistered tomatoes, healthy fats from olive oil and avocado, and a protein power-trio of egg, turkey and goat cheese.
Savory Sandwiches
Customers will perk up when they see this Turkey Chacarero on your menu. A savory and spicy twist on the traditional Chilean dish, this recipe combines sliced turkey with green beans, juicy tomato, spices and tangy garlic aioli.
Power Salads for Lunch or Dinner
When people think of healthy dishes, many think of salads. This Grilled Turkey Breast with Spring Kale Caesar gives the classic Caesar a protein upgrade. Fresh, simple and flavorful, it's sure to be a popular entrée, noon or night.
Or lean into the green with the Green Goddess Pasta Salad, featuring Gemelli pasta with turkey breast combined with a medley of fruits, vegetables and nuts. Toss with creamy-tangy Green Goddess dressing and prepare to delight.
With global flavors in demand, this colorful Mediterranean Power Salad will turn heads and profits. Sliced turkey tenderloin medallions join a flavorful and nutrition-packed combination of greens, nuts, pasta and fruits for an all-in-one lunch or dinner option.
Playing into today's healthy eating trends will help you drive traffic with unique and enticing options. How will you incorporate more nutritious ingredients into your menu? Share your ideas on our Facebook or LinkedIn pages, and visit our Resource Center for more tips and trends.
Sources: