Dive Deeper into Asian Flavors
March 2020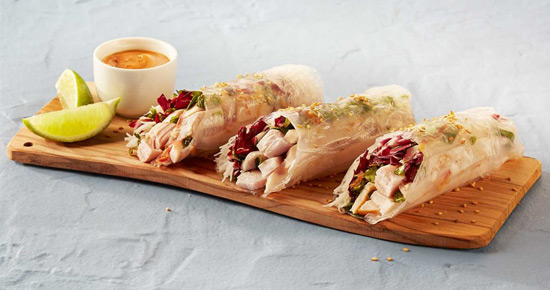 Interest in ethnic food continues to grow, and with a continent as large and diverse as Asia, there's an abundance of cuisines to explore. Diners particularly enjoy both the spicy and sweet flavors that Asian dishes incorporate, and because of social media, flavor trends are growing faster than ever as restaurant-goers are eager to snap photos of unique dishes.
While patrons are familiar with Chinese and Japanese cuisines, they're now gravitating toward Pan-Asian fare. Technomic predicts that food from the Philippines, Indonesia, Malaysia and Singapore will develop even larger fanbases over the next year. Some of these influences are already present in the casual-dining sphere. For example, the chain Yard House serves lumpia, a savory spring roll from the Philippines that's full of meat and vegetables.
Many other restaurants – from Asian concepts to mainstream – are tapping into the eastern hemisphere, too. The demand is strong, with 45% of consumers purchasing Asian dishes at fast-casual restaurants and 46% doing so at full-service restaurants. Vietnamese food is especially making waves, as nearly one third of consumers have tried it and find it exciting; meanwhile, 44% of consumers have yet to try it but are interested in doing so. At Which Wich, a fast-casual restaurant headquartered in Dallas, they offer the traditional banh mi sandwich with a sriracha-mayo-twist. For another iteration of this favorite, serve this Turkey Banh Mi. It's a delicious selection for diners—and a portable one for those on-the-go.
In addition to tweaking traditional recipes, chefs are bringing Southeast Asian dishes to life in even more unconventional ways. The Boiling Bowl in Portland, Oregon offers a build-your-own salad roll option and DIY pho. Patrons can make their own summer rolls from a platter of vegetables, herbs, proteins, vermicelli noodles and rice paper wrappers. Customization makes it easier to introduce adventurous foods while creating an interactive experience.
As Asian fare trends upwards, some of its ingredients are maintaining momentum, particularly kaffir lime, banana ketchup, pandan and sambal. In fact, sambal has seen 7.6% growth YOY, making it one of the top flavors of 2019. To bring this in-demand ingredient to the menu, consider these Turkey Summer Rolls with a sambal peanut dipping sauce. Bright, crunchy flavors come together with a savory nuttiness that rounds out this eye-catching appetizer.
Interest in Asian cuisine isn't slowing down any time soon. While maintaining authenticity is important to diners, there's still room for chefs to play with ingredients or create fusion dishes of their own. Diners will continue to be exposed to unique types of food and will increasingly look for more flavor complexity and new experiences. By offering ethnic fare in traditional and unexpected ways, operators can satisfy patrons.
Does your menu feature Asian influences? Share your ideas with us on Facebook or LinkedIn. Visit our Culinary Center to discover more global inspiration and beyond.
SOURCES
Cobe, Patricia. 10 Sandwich Sales Drivers, Restaurant Business Online, July 2019.
Ethnic Food and Beverage Report, Technomic, 2018.
Flavor Trends, Technomic, Q2 2019.
Lalley, Heather. 3 Emerging Concepts With Global Yet Approachable Fare, Restaurant Business Online, October 2018.