Dress Up Your Menu with New Salads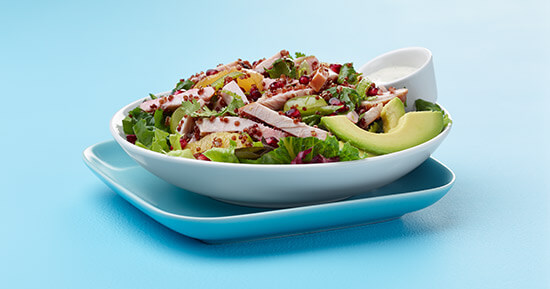 Salads are menu favorites, and they deserve just as much attention as other center-of-the-plate options. More than two-fifths of diners say they visit specific restaurants because they enjoy their salads, and 21% say they purchase salads to try new flavors. It's time to expand your salad offerings beyond the basic Caesar and house varieties.
More than half of diners agree that salads are very healthy. You can appeal to diners seeking better-for-you meals by including on-trend superfoods in new salad recipes. Try the Mesquite Smoked Turkey and Red Quinoa Sedona Salad for a healthy mix of popular ingredients. It includes white grapes, fresh oranges, Mesquite Smoked Turkey Breast, red quinoa and pomegranate seeds, topped with roasted poblano Roman dressing.
Some other simple ideas to refresh your salads include:
Upscale toppings—35% of diners say they will pay more for a "premium" salad. Use quality ingredients and be sure to include "premium" in the salad's name on your menu to draw attention.
Customization—Diners love the "build your own" concept. List ingredients on your menu and let your patrons pick their greens, protein, cheese and other toppings.
Favorite foods—Create salads that are reminiscent of classic favorites. Try a salad topped with barbecue pulled turkey for a healthy twist on a pulled pork sandwich. Diners can still have the flavor they're craving with less fat and fewer calories.
Patrons are interested in trying new salads, so now's the perfect time to give your menu a makeover. If you need help, use our E-Z Menu Ideas for fun salad inspiration.
SOURCES
What Consumers Are Looking for in Salads, Technomic, 2014
The New Healthy, Datassential, 2011