Drive Traffic with Food Truck Inspiration
September 2019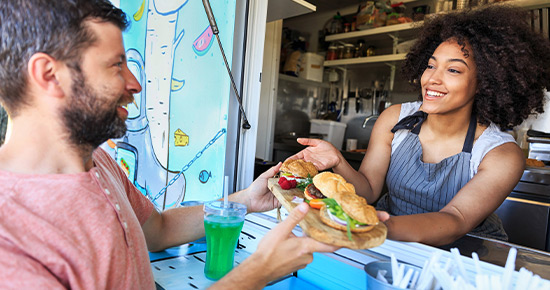 Food trucks have come a long way, from their humble beginnings as pushcarts to today's unique, traffic-driving destinations. This mobile industry is worth approximately $906 million and expected to increase to $1.1 billion in 2022. While it's not realistic for most operators to put their business on wheels, they can revamp their menus to feature options inspired by these popular eateries.
Any dine-in establishment can easily have the variety that food trucks carry. This mobile movement is great for ditching the same old, same old and embracing trends as they arise. Shared plates are causing a stir and serve as a great way to satisfy customers' growing appetites for new flavors. Offering small portions at lower prices allows patrons to sample multiple dishes instead of limiting themselves to one large entrée. For bites that are perfect to split in groups, try serving these Turkey and Swiss Sliders or Banh Mi Turkey Wraps.
Food trucks are renowned for menuing interesting items. For instance, the Los Angeles-based Coolhaus truck sells ice cream in candied bacon, spiked eggnog and hot toddy flavors. Fusion continues to be an exciting, flavor-forward trend in all areas of foodservice—and the street is no exception. JAPADOG, which originally started as a food stand in Vancouver, transforms the classic hot dog with add-ons such as wasabi, miso and soba noodles. Try this Kimchi Turkey Burger or these Turkey Chorizo Street Tacos to merge the familiar with the exciting.
Regardless of how patrons are eating away from home, they still seek healthy and personalized options. Food trucks are expanding to meet different dietary restrictions, from gluten free to Paleo, widening their appeal. Recipes such as Gluten-Free Turkey Ramen and Singapore Meatballs and Zoodles provide better-for-you fare without sacrificing bold flavors. In addition, diners look for transparency when it comes to what makes up their meals. They want to know how operators source ingredients as well as choose their own through customizable experiences. Adding callouts or nutritional information to menus can give guests the information they want.
Many operators take advantage of these culinary vehicles being innovation friendly by experimenting with new concepts before committing to them. Companies such as Whole Foods, Olive Garden and Outback Steakhouse have used these trucks to test out food items. Operators can get inspired through food truck-themed LTOs or outside-the-box creations. Although food trucks are a popular phenomenon, in the end, it's the food that takes focus, the taste that patrons remember—no matter where it's served.
Does your menu draw inspiration from food trucks? Give us the scoop on Facebook or LinkedIn. To read more about the latest trends, visit our Resource Center.
SOURCES
Food Truck Trends for 2019, ACityDiscount, July 2019.
Myrick, Richard. 3 Trends That May Affect Your Food Truck's Spring 2019 Menu, Mobile Cuisine, 2019.
History, JAPADOG, 2011.
Upcoming Food Truck Industry Trends for 2019, Zac's Hamburgers, 2019.