Food Trucks on Campus: Rolling in A New C&U Solution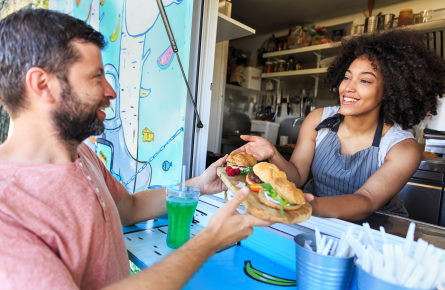 This fall, students will be bursting through college and university doors with built-up excitement and hunger for a full range of fresh and flexible culinary choices. As operators gauge the new reality and navigate the balancing act of adhering to safety standards while also delighting their eager diners, they might find themselves asking, "Can I get some help around here?" The answer is a big "HONK! HONK!," thanks to a little outside help from food trucks.
By supplementing their offerings with food trucks, operators will instantly gain three new advantages as everyone adjusts to college life 2.0.
Hop Aboard Variety on Wheels
Even starting small with one food truck once or twice a week can add a new dimension to existing on-campus offerings. And if the restaurant on wheels is anything like the one that the University of Connecticut utilized last year, operators can get a lot of mileage out of a single vendor. According to the truck's Chef Robert Landolphi, dishes included "everything from tacos to lobster rolls, avocado fries to tempura-battered chocolate chip cookie dough."
For even more variety, operators might consider enlisting a rotation of trucks, so they can provide their campus with deliciously unique specialties throughout the week. Eckerd College in Florida enlisted multiple food truck vendors in 2020. This allowed the school to satisfy a range of appetites and preferences, including tacos, BBQ, Middle Eastern specialties, mac and cheese and more. The food trucks were available every Tuesday, Thursday and Sunday, helping students schedule appropriately.
Honk for Added Convenience
With a little strategizing, food trucks can be placed when and where they are most convenient for students to access. For example, they could be parked closer to academic buildings during peak class times and moved next to dorms around dinnertime. Additionally, if there is a spot on campus that's more removed from existing dining options, a food truck could post up there more consistently to balance out overall food availability.
Keep your Distancing
As schools continue to manage safety protocols and as students figure out their own comfort levels around dining on campus, food trucks provide an ideal alternative to indoor dining halls. For anyone who finds more peace of mind in remaining outdoors when ordering, waiting for their food and enjoying their meal, a food truck checks all the boxes. It's just one more way C&U foodservice providers can create an inclusive and inviting setting for those they serve.
Tim Cooney, resident district manager for Chartwell's at Northeastern University, sums it up best when explaining why he brought a street-food-inspired food truck onto his campus last year. "As our students navigate the new normal, they don't have as many dining options as previous years. Our students deserve something fun and special."
If you have or are planning to utilize a hybrid model including food trucks, we'd love to hear about it. Let us know on our Facebook or LinkedIn page.
SOURCES:
Fitzpatrick, Tara. UConn's food truck gets new spin as kitchen-to-outdoor serving station hybrid, Food Management, March 2021.
Gingerella, Benita. Northeastern University expands dining options with new taco truck, Foodservice Director, March 2021.
Rubin-Thomas, Conall. Weekly food truck visits to campus keep the culinary options rolling, The Current, March 2021.