For Millennials, Food Is Found on Wheels
February 2022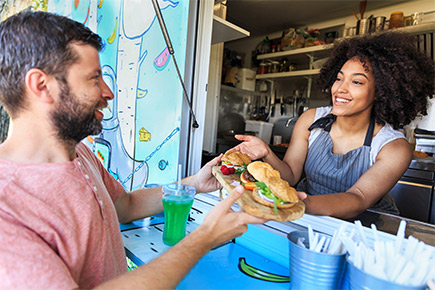 Have you always had a dream of operating a food truck? There are plenty of things to consider, but the creative freedom, the flexibility and the ability to work outside have many chefs and restaurateurs looking into the possibility of getting their own truck started. So why food trucks? Why should you consider this fast-growing alternative to brick-and-mortar establishments?
In the last 10 years, no food movement has been more prolific than that of the food truck revolution. We've completely changed the way we look at cuisine in America, and that means not just exploring new flavors, but also considering where our best meals come from. The food truck allows people of all walks of life to enjoy creative dishes from some of the leading chefs in the country, all without having to sit down at a brick-and-mortar establishment. Millennials are leading this revolution, with 47% enjoying a meal from a truck. In addition, they are the most likely to have a spot they frequent again and again.
Food trucks cater to this younger audience, breaking down the boundaries between business and consumer, for the owners and cooks are often the ones taking your order, and delivering delicious food from their windows. Many find these trucks to be more "authentic," given that each truck creates delicious homemade dishes that are not attached to a hyper-commercialized brand. They can take risks, allowing chefs to let their creativity shine. This takes inspiration from many street food vendors abroad, who create one perfect dish over and over.
With the pandemic, many food trucks filled the void for indoor dining and creative food. However, as things continue to progress, many trucks have hopped on the trend of delivery services, as well as online ordering. This expands the reach of the trucks, allowing for advertising as well as a more wide-reaching option besides a lunch-break favorite or festival treat. Many trucks have even started parking in residential areas, serving as a meeting ground for the whole neighborhood to enjoy.
Check Out Some of These Food Truck Favorites. Your operation can gain valuable inspiration from these successes. These creative concepts feature a wide range of cuisines, proving that nearly any menu can be adapted to work for a food truck!
Roti Rolls: A Charleston, South Carolina, favorite serving roti parathas loaded with Caribbean, Asian and Indian flavors made from organic proteins and produce.
Fava Pot: A DC truck turned restaurant serving Middle Eastern and Egyptian delicacies from koshary to stuffed grape leaves.
Bang Bite Filling Station: A Santa Fe, New Mexico, institution serving huge, mouthwatering burgers, sandwiches and cheese-focused dishes.
With a market size of 1.2 billion in 2021, and a growth of 6.6% per year on average from 2016 to 2021, the food truck industry was expected to increase 4.7% in 2021. This means that it's as good a time as ever to get cooking on wheels, but there are a few things to keep in mind. You must have a solid concept, one that is original while still satisfying the tastes that consumers reach for when enjoying a meal in this format. At a cost of $50,000 to $250,000 after customization and legal fees, food trucks don't run cheap. That's why it's incredibly important to understand your target market, city's local ordinances and equipment needs. So, whether you purchase your truck new or used, be sure you have everything sorted out.
In closing, food trucks can be a smart move in today's rapidly changing landscape, but it's critical to have your concept on lock, knowing exactly where your audience lies and how best to reach them. Being original is key but making sure customers like your food is even more important. Try testing out your menu with a pop-up! It's a great way to get folks interested while homing in on your craft. So, maybe instead of an indoor dining establishment, look into bringing your passion to the streets!
Have you considered opening your own food truck? Share your thoughts on our Facebook or LinkedIn page. Or visit our Resource Center for more tips and trends.
Sources
https://bigthink.com/culture-religion/millennials-are-the-food-truck-generation/
https://www.nytimes.com/2021/05/24/business/food-trucks-pandemic-covid.html
https://www.forbes.com/sites/michelinemaynard/2021/01/25/food-trucks-are-steering-around-the-pandemic-and-getting-a-friendlier-reception/?sh=131fa7144231
https://www.npr.org/2021/10/04/1043145226/the-pandemic-has-driven-food-trucks-into-neighborhoods-and-onto-delivery-apps
https://www.foodnetwork.com/restaurants/photos/best-food-trucks-in-the-country
https://www.ibisworld.com/industry-statistics/market-size/food-trucks-united-states/
https://www.foodtruckoperator.com/articles/buying-a-food-truck-tips-insight-and-what-to-know-beforehand/