Gaining Velocity with Vending
April 2021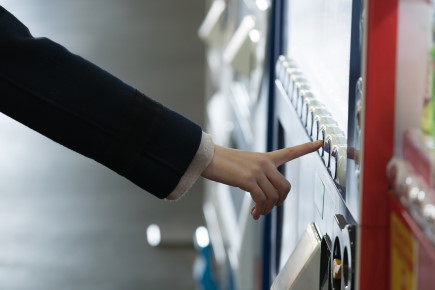 The first coin-operated vending machine was invented in London, England, in 1883. Soon after, it became a fixture at British railway stations and post offices as a convenient way to sell postcards. Fast forward to today, and we've seen the vending machine evolve from a candy bar and soda dispenser to an impressive standalone retailer of everything from electronics to temperature-sensitive prepared foods, like sandwiches and premium coffee.
And as 2020 and 2021 have unfolded, one could argue that the core benefits and innovations of the vending machine have never been more relevant than right now. Purchasing from a vending machine is quick, convenient, often outdoors and requires zero human interaction, all indisputable advantages when selling or buying food in the midst of a global pandemic.
It should come as no surprise that with so much creativity and perseverance in the foodservice industry, a number of operators have turned to vending as a viable way to extend their off-premise offerings.
Below are two examples of restaurants who have incorporated vending machines in a successful way.
Keeping up with Jones BBQ
Until recently, Jones BBQ in Kansas City was a lunch-only destination. But then co-owner Deborah Jones had an idea. She realized that making her famous BBQ sandwiches available around the clock could be a huge opportunity, thanks to ample local hype and the fact that she was located next to a bar.
So, Jones worked with a manufacturer to develop a vending machine that could serve her offerings outside of the storefront's normal operating hours of 11:00 AM – 3:00 PM. After a lot of collaboration and patience through the design process, her custom vending machine arrived. All she had to do was figure out how to fill it. Jones has since nailed down a simple process, which involves placing the main dish plus small sauce and side ramekins into a large clamshell container, labeling each one with a hand-written description on masking tape, and loading the all-in-one meal into the machine. With a swipe and the press of a button, Jones BBQ devotees can choose from various smoked meat sandwiches, chicken wings, turkey and rib tips, which each include sauces and side items like barbecue beans, potato salad and coleslaw.
Perhaps the biggest twist in Jones's story is that her new contactless, multi-daypart grab-and-go solution was in the works more than a year before COVID-19 upended the industry. Though certainly ideal given today's new normal, Jones simply took advantage of the demand she was seeing for her BBQ joint's irresistible takeout food.
Famous Pasta at the Press of a Button
Heading east to Arlington, Virginia, a refrigerated vending machine with European sensibilities now tempts passers-by at 2800 S. Randolph Street. This pasta perfect unit is the brainchild of the team behind DC's acclaimed Stellina Pizzeria.
Hungry pedestrians can secure everything from gourmet family-size pasta kits for $30, to DIY cannolis, to Stellina t-shirts. In an area that's typically abuzz with walking and biking commuters, this quick, easy and contact-free Italian outpost is sure to satisfy well beyond COVID-19.
When considering if such a solution is the right fit, even hesitant operators could benefit from doing a little research. Vending machines truly have become "smart," with loads of available features that may alleviate initial concerns. To name a few, they can store and sell raw meat, gently deliver more fragile items using elevators, manage loyalty relationships with email capture and share real-time data to assist with aspects like restocking.
For smaller operators who don't have the space or budget to add a drive-through or ghost kitchen, vending machines could be an ideal solution for adding velocity in a recovering environment.
Have you considered a vending machine to drive sales or expand your reach? Share your story on Facebook or LinkedIn. To discover ideal to-go dishes, explore our recipes.
SOURCES 
Bender, Jonathan. Kansas City Is Now Home to a BBQ Vending Machine, Atlas Obscura, April 2020.
Plumb, Tierney. A Vending Machine in Shirlington Sells Pasta From One of D.C.'s Best Italian Restaurants,
Eater DC, February 2021.